BARGAIN LUXURY TRAVEL - CZECH REPUBLIC
HOTEL JALTA – PRAGUE
Boutique Luxury Hotel with Cold War History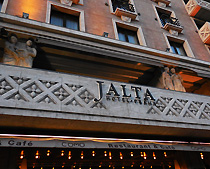 The Hotel Jalta of Praque is perhaps totally unique among the world's luxury hotels. Certainly there are other hotels which hold UNESCO World Heritage status for their cultural history, design or location, but none of those have a nuclear bomb shelter in the basement. The fictional James Bond might be found in a stylish design hotel like the Jalta, but here the hotel itself was a spy center. It is a boutique deluxe hotel with a great location, but a story to tell as well. When the world divided into east and west after the Second World War and a wall was being built in Berlin, the Communist masters of Prague looked at their ravaged city, deciding how to rebuild. In the waning days of WWII in 1945, an American bomb had destroyed a building on Wenceslas Square, so a prime piece of real estate in the heart of the city was available.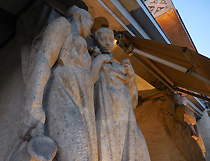 After the war, a plan for building a hotel on the site started to take shape and President Antonin Zapotocky promoted the concept of building a first-class international luxury hotel for all the dignitaries coming to Prague. However, more than just hotel, the construction would disguise the building of a nuclear bomb shelter underneath to serve as the military headquarters of the Warsaw Pact, just in case the H-bombs began to fall. And since the luxurious accommodations would be filled with foreign ambassadors and financial ministers, why not wire it for sound, so all those secret conversations could be recorded by the security spy services and hire prostitutes to entice bedsheet revelations.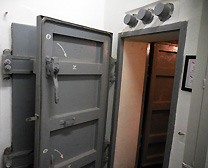 Today, the Hotel Jalta has been overshadowed a bit in the competition of modern international hotel chains, but remains one of the best known boutique hotels of Prague with a central location on Wenceslas Square and retains a certain cool hipness. Sure you can enjoy exceptional service and contemporary comfort, but take a moment to look at your surroundings and step back in time to another era. The design of the Hotel Jalta is one of the masterworks of Czech born architect Antonin Tenzer. When it was built, it was one of the most advanced buildings in Prague with a architectural esthetic which matched the ideology and politic timber of its time. The hotel design is a style called Sorela, meaning ironically "Stalin's Baroque", influenced by a mix of pure functionality and a proletariate interpretation of Art Deco, with figures of idealized peasants replacing gods and nymphs of western fancy. Some of this design philosophy can be seen in the bathroom fixtures and travertine tiles, or closer up, if staying in one of the street facing suites where socialist relief statuary guard the balconies.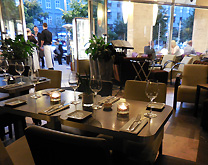 The Como Restaurant and Café at the Hotel Jalta is one of Prague's best popular restaurants with its terrace view of Wenceslas Square, serving Mediterranian specialties and traditional Czech cuisine, fresh fish every day and the special Tsarskaya oysters. Live music is played in the still cool bar with an extensive drink and wine list, where ladies under the control of spy masters once enticed international money dealers to reveal secrets, now attracts a hip business crowd and Andy Warhol's portrait of Franz Kafka keeps a watchful eye over the lobby. © Bargain Luxury Travel
Book a bargain deal at Hotel Jalta Prague
Find best hotel and vacation deals in Prague Bohemia on TripAdvisor
Web Info
Hotel Jalta
These articles are copyrighted and the sole property of Bargain Luxury Travel and WLPV, LLC. and may not be copied or reprinted without permission.
More Luxury Getaways:
Marriot Vienna Stadtpark Vienna
The Dominican Brussels
Hotel Bayerischerhof Munich
Or visit Bargain Travel Europe for European Travel Ideas