BARGAIN LUXURY TRAVEL
STEIGENBURGER SANSSOUCI – POTSDAM
Elegant Boutique Luxury Near the Palaces and Old Town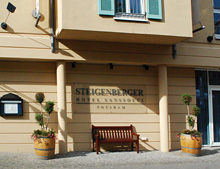 The German Imperial Royal Palaces in Potsdam take up a massive park at Sansoucci hust a few minutes west of Berlin, forming a wonderland of Baroque architecture, fountains, landscaped pathways, so large little busses carry visitors who find it all too far to walk. Located near the entrance gate to the palace park and at the edge of the central old town of Potsdam, the Steigenburger Sanssouci Hotel is ideally suited for a visit to this famous district of Brandenburg, a setting for a few days of palace visits, old town and nearby film studio. This unique boutique small scale hotel offers elegant lodging within walking distance of all the attractions.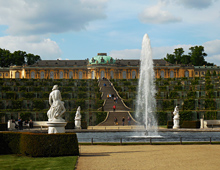 The interior design spaces feature warm colors and natural materials, while memorabilia and decorations from the golden age of German film make for a touch of nostalgic glamour to tie in with the Brandenburg cinema history, where classics like Metropolis illustrated the divide between rich and poor, most illustrated by the royal architecture, just a few steps from the door. Superior Rooms meet all the requirements for a relaxed and nomey atmosphere with soundproof windows ensure you good night's rest, while the Deluxe Rooms offer views over the green of Sanssouci Park or Potsdam's historic old town, some with balconies.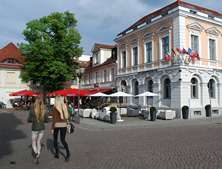 Friedrich's Bistro Bar has an intimate ambiance for relaxing after a day of exploring enjoy cocktails and delicious snacks in an intimate ambiance with a remarkable wine list. Here to the principle applies, guests get top-quality regional products with international flair. In summer, April to September when the Brandenburg trees grow lush, enjoy the weather and historic atmosphere of the Kutscherhof summer terrace, a throwback to the days of leasure gone by. Start the day with a workout and aa jog through the setting of the Sanssouci Park with its extensive jogging trails and its lush greenery and end with a spa treatment in the Finnish steam bath and relax with an indulgent massage. The staff can recoommend a variety of open-air activities and excursions in the surrounding area, because Brandenburg is the land of lakes, rivers and nature, just beyond of the sprawl of Berlin.
© Bargain Luxury Travel
Book a bargain deal at Steigenberger Sanssouci
Find best travel and hotel deals in Berlin on TripAdvisor
Web Info
Steigenberger
These articles are copyrighted and the sole property of Bargain Luxury Travel and WLPV, LLC. and may not be copied or reprinted without permission.
More Germany Luxury Getaways:
Hotel am Schlossgarten Stuttgart
Steigenberger Hotel de Saxe Dresden
Steigenberger Hotel Graf Zeppelin
Or visit Bargain Travel Europe for European Travel Ideas