BARGAIN LUXURY TRAVEL - IRELAND
AHERNE'S TOWNHOUSE & RESTAURANT – YOUGHAL CORK
Intimate Romantic Luxury for Foodies on the South Irish Coast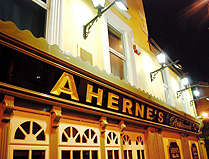 The coastal village of Youghal in Country Cork has been a seafaring port on the southeast of Ireland since the days of the Vikings and one of the most important ports during the sailing syas of Sir Walter Raleigh who was once major of the town. But a ships got bigger unable to pass over the shallow entrance to the harbor, Youghal was bypassed by the industrial age and became a quaint fishing town and historic resort destination. Retaining its old world feel, Youghal doubled for whaling port New Bedford in the 1950s movie of Moby Dick (see Moby Dick Pub) and its medieval streets over-looking the waters of its broad bay make for a lost in time getaway spot for exploring Ireland.
Aherne's Townhouse and Restaurant on Youghal's Main Street is a small and intimate boutique luxury hotel accommodation with a reputation for warm hospitality and outstanding cuisine. This local landmark has earned a place over the years in a number of travel and food guides as renowned restaurant serving some of the finest seafood in the world, with its motto "the best place to stay and eat in Ireland". The hotel is privately owned and run by three generations of the Fitzgibbon family. The hotel accommodation of spacious luxurious double bedrooms, located above are stylishly furnished with individually chosen antiques and paintings, crisp white linens, pristine private bathroom, and equipped to deluxe modern standard. The rooms vary a bit in size, but each double bedroom has an enormous comfortable bed, crisp white linen and a pristine private bathroom. Some of the rooms are large enough take additional beds, able to accommodate an extra adult or 2 children. Room stays include full Irish Breakfast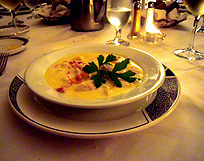 The famous Aherne's Seafood Bar and Restaurant specializes in freshest of the local caught sea bounty of a wide variety, Lobster, Oysters, Crab, Prawns, Mussels, Squid, and the daily catch served in an atmosphere of open fire places and rich woods. Try the signature seafood chowder and choose from a select wine list, sample a from an wide array of Irish Whiskies, Brandy and specialty coffees, or enjoy a pour of one of the special treat 20 year old whiskey, kept on hand. The old world bar is known for its Irish pub friendliness where you can enjoy a chat with the familiar crowd of locals with your Guinness. The bar menu includes smoked salmon, oysters, prime Irish beef, seafood chowder, sandwiches made with homemade bread.

Aherne's is located in the heart of the old town. Daily guided walking tours are availablke to take visitors around the historic sights. Youghal is a perfect location for touring the southern coast region of Ireland, just over two hours from Dublin or the Rosslare abd Cork ferry ports. Within easy driving distance are Waterford (see Waterford Crystal Center), Cobh, New Ross (see Dunbrody Famine Ship) and the ancient monastery hermitage of St Declan at Ardmore (see St Declan's Well), the Blarney Castle and Cashel (see Rock of Cashel). Blue Flag Beaches, 2 golf courses are nearby, or take a fishing or river boat trip. © Bargain Luxury Travel
Book a Bargain Deal at Aherne's Townhouse Hotel
Find best travel and hotel deals in Ireland on TripAdvisor
Web
Aherne's Hotel & Restaurant
These articles are copyrighted and the sole property of Bargain Luxury Travel and WLPV, LLC. and may not be copied or reprinted without permission.
More Ireland Luxury Getaway:
Cliff House Hotel Ardmore
Dromoland Castle Hotel & Golf Resort Shannon - County Clare
Monart Spa Hotel County Wexford
Mount Juliet Hotel & Golf Resort Kilkenny
Brooklodge & Wells Spa County Wicklow