BARGAIN LUXURY TRAVEL
CRUISES AND LUXURY TOURS

HOLLAND AMERICA'S ROMANTIC CARIBBEAN CRUISE PACKAGES 2011
By Carmel L. Mooney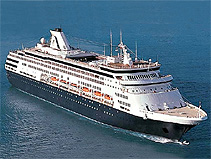 One of the strengths of Holland America Line, and particularly the MS Maasdam's 2011 itineraries, is that children make up a very small portion of the overall capacity of cruisers, so if a couple is looking for a thoroughly romantic cruise getaway, the MS Maasdam and this cruise line is perfect. Couples can enjoy a live show together, visit the casino, see a movie, take a dance class, indulge in luxurious spa treatments, enjoy high tea, or even attend a computer class. Holland America Line offers many special activities and classes unique to its voyages and they have recently added a very popular new Microsoft Digital Workshop, quickly becoming the most popular activity on abord ship. These complimentary "techspert" led workshops enable all levels of photographers to take better photos, make movies, edit and create scrapbooks, and share digital memories through emails, blogs, and social networking. Cruising lovers find the classes offer a wonderful opportunity to learn together and perfect skills.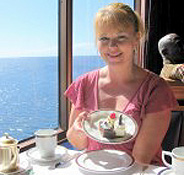 Romantic dining is a Holland America forte where specialties like Chicken Satay, Chili-rubbed Tuna Brochette, Oatmeal crushed flounder, and Chocolate Decadence Cake are common fare. At the Pinnacle Grill, offerings of Lobster Bisque, Dungeness Crab Cakes, Broiled King Salmon, Surf and Turf, Land and Sea, Lobster Macaroni and Cheese, Filet Steak Diane, Warm Grand Marnier Chocolate Volcano Cake, Pinnacle Crème Brule, Velvet soufflés, and cheesecakes are nightly enticements in a hopelessly romantic setting. Although Holland America Line, the world's leading premiere cruise line sails to all seven continents and more than 320 ports of call, the various Caribbean itineraries are favorites for couples sailing from Ft. Lauderdale, Florida. These exciting sailings thrill couples of all ages with so many wonderful shore excursions. Seeing the green monkeys in St. Kitts on shore excursion is nothing less than spectacular. Imagine the thrill of thermal champagne snorkeling where Pirates of the Caribbean was filmed in lush Dominca, or seeing each other aglow from the phenomenon of trillions of dinoflagellates ablaze in the Laguna Grande of Puerto Rico. Couples love shopping and golfing in places like Barbados, Half Moon Cay, and St. Maarten. The combination of exotic wildlife, excellent shopping, pristine and safe beaches, and astounding history make these itineraries a wonder for couples of all ages where lovers can find something memorable and enjoyable to encounter at each and every port with such a vast array of diverse options. Whether you both zip line through a jungle or wade in the warm West Indies oceans, satisfaction is certain with these wonderful tropical and exotic road trip excursions.
Imagine the thrill of snorkeling where Pirates of the Caribbean was filmed in a geo thermal champagne snorkel spot, or seeing each other aglow from the phenomenon of night kayaking through trillions of dinoflagellates ablaze in the Laguna Grande of Puerto Rico - either will provide romantic and thrilling memories of a lifetime.© Bargain Luxury Trave
Carmel L. Mooney is a family travel columnist, author, radio talk show host, and editor of www.roadtripsforcouples.com online magazine.

These articles are copyrighted and the sole property of Bargain Luxury Travel and WLPV, LLC. and may not be copied or reprinted without permission. Photos courtsy Carmel Mooney and Holland America.
See other Cruises
Uniworld Grand Europe River Cruises

Cruise West Danube and Mosel
Visit Bargain Travel Europe for Europe Travel on a Budget