BARGAIN LUXURY TRAVEL - GERMANY
MARITIM HOTEL DÜSSELDORF AIRPORT
Luxury and Convenience at Conference Center Hotel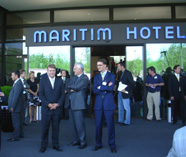 Stay in the Presidential Suite and meet an actual President – or at least a head of state. During a recent trip to Düsseldorf, the annual conference of Germany's CDU, Christian Democratic Union party was being held at the new Maritim Hotel at Düsseldorf's modern airport. In spite of a small mob of security, photographers and an enthusiastic crowd, guests got a chance to meet German Chancellor Angela Merkel. Political figures aside the Maritim Hotel at the Düsseldorf International Airport which opened in December of 2007 is quite impressive as an "airport hotel".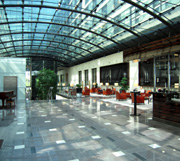 Maritim Hotels is a chain of upscale properties primarily based in Germany, though expanding in the mid-east, Spain and China. The hotel chain prides itself on modernity and elegant design. The decorative design at the Maritim Hotel Duesseldorf reflects both of those goals. The glass atrium roof of the lobby allows a sense of openness, while protecting from the elements. While housiing a large number of rooms capable of supporting conventions and congresses for which it was built, the hotel retains an intimate smaller hotel feeling. Five in-house bars and restaurants cater to varied tastes. The breakfast bar in the morning offers an impressive array of choices. The spa and pool invite some relaxation time.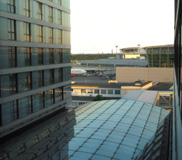 The first character you notice of the Maritim Duesseldorf is it's location. Your flight arrives at the sleek and easily managed airport, you can take a shuttle the block to the hotel, but more simply walk out of the terminal with a baggage cart, turn right, and the hotel is there. Perhaps striking about a hotel in such close proximity to a major international airport is the quiet. Once inside, you almost never hear an airplane. The thick doors of the conference rooms remind one of bank vaults. A lot of thought went into this hotel's design. An S-Bahn rail station is within a few steps from the hotel at the end of the airport terminal for the ten minutes it takes to get to the city's old town or famed Königsallee – the "The Kö" shopping promenade (see Dusseldorf – Rhine's Biggest Little Village).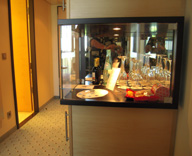 Oh, and did I mention the Presidential Suite at the Maritim Hotel Dusseldorf can be enjoyed for about 1,100 Euro a night, for a truly impressive house-sized 220 square meters of elegance, including a guest bedroom. You could spend that on a Savoy cracker-box in London. For a family or couple of friends, not a bad deal. Okay, maybe you don't need the accommodation of a head of state or Saudi prince. The hotel has 37 executive and junior suites, and 500 rooms of standard elegance, with a minibar that's such a work of art you sort of don't want to touch it. Though I don't know if that was the intent. If you're going to Dusseldorf for a business conference you'll really enjoy being "stuck" at the Maritim. If you're looking to discover Germany's North Rhine area, the Maritim Hotel Duesseldorf isn't a bad place to start. © Bargain Luxury Travel
Find a bargain deal at the Maritim Dusseldorf
Web
Maritim Hotels
Relaxing Spa Vacation Getaways!
These articles are copyrighted and the sole property of Bargain Luxury Travel and WLPV, LLC. and may not be copied or reprinted without permission.
More Germany Luxury Getaways:
Steigenberger Hotel de Saxe Dresden
Steigenberger Hotel Graf Zeppelin Stuttgart
Or visit Bargain Travel Europe for European Travel Ideas