BARGAIN LUXURY TRAVEL CRUISING
LUXURY EUROPEAN BARGE VACATIONS
Barge Connection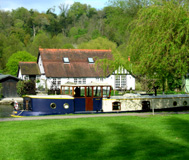 Want to holiday like a King. Live the luxury life at a royal relaxed pace while surveying the glorious picturesque countryside. Travel among the locals cultures incognito, nobles oblige. All the great potentates traveled in luxurious opulent style on personal barges – Cleopatra – Eleanor of Aquitaine – Jabba the Hut… Okay maybe not a good reference, unless you're planning a cruise to another galaxy, but barging Europe is one of the grandest ways to see the old world, trolling along the rivers and canals that tranverse gorgeous European landscapes with tie off ports of call for exploring all the local culture and experience you can stand.
The Barge Connection is a service that arranges barge holiday vacations for the serious traveler with excellent regional cuisine and fine wines are served daily on fully crewed hotel barges with knowledgeable staff to share their love of the home country. France, England, Holland, Scotland and Ireland pass the river and canal banks as you and family or friends enjoy the luxury of elegant private cabins, furnished lounges and glorious sundecks, with historical or themed excursions at many stops in some of the best picture perfect countryside. Barge cruising is a wonderful way to capture the essence of rural Europe with tantalizing and new destinations every day.

A number of special theme cruises are available, each catering to your desires and personality, each with a character all their own, whether you're an active traveler interested in hiking and biking, or a golfer looking for those secret discovered links, or wine tasting and the gourmet experience.
April in Paris Cruise
Experience the mystique of this famous city of light and love in springtime. Begin by exploring the many historical and beautiful sites that this exceptional city has to offer. Take a private tour of the Marmottan Museum and its Claude Monet collection. After two days of shopping on the Champs Elysee. board your luxury hotel barge for the beautiful French countryside as your vessel navigates its way through the tranquil waterways, exploring historic villages, vineyards and stunning cathedrals.
Gourmet Cruises
Enjoy France like a real Frenchman. Savor gourmet cuisine and wine from France's best appellations. Visit 3 Michelin-rated restaurants, where you will be able to partake in the culinary delicacies of French cuisine, but you will also have the opportunity to tour a kitchen of a top rated restaurant, with the chef as your personal guide. Along with the food comes history, culture and impressive sightseeing.
Wine Cruises
From a novice to the nose of a connoisseur, for you who enjoy fine wines, this special cruise is your ticket to appreciate the many joys of France wine "terroirs". As you tour the vineyards, from the small family run wineries to the grand châteaux, guest speakers, local wine makers and experts will increase your knowledge, understanding and enjoyment of the vintages. Most of the hotel barges that offer this cruise incorporate the many regions' wines into their gourmet menu planning.

Family Cruises
Looking for a relaxing, stress-free vacation with the family? Well, if there is such a thing, barge cruising is probably as close as you'll come. Once aboard and unpacked, forget the tickets and the luggage and the train schedules. Just kick back and make yourself at "home" in someone else country. And if you don't like the view, well, it will just keep changing. All your meals and activities will be arranged by the crew, with excursions designed to fit your family's interests, from children's activities to the many historical adventures. Just don't leave a kid behind at castle.
Cruise the Thames

Dramatic castles, stately homes and formal gardens, and medieval manor houses are a royal legacy of this famous river through midland England. This cruise from the center of London to the countryside allows visits to the worlds great museums and galleries to the beauty and rich history of England.
These are just a few of the cruises experiences available through Barge Connection
Or check for Cruise Specials
Last minute cruise deals at Expedia.com
See also:

Cruise West Danube and Mosel
Or visit Bargain Travel Europe for European travel ideas