BARGAIN LUXURY TRAVEL - IRELAND
GREGANS CASTLE HOTEL
Luxurious Country Solitude in The Burren of County Clare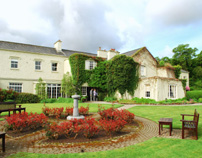 The Burren is a rich and unique landscape of strewn limestone rock in the west of Ireland bounded by Galway Bay and the Atlantic sea cliffs, dotted with ancient megalithic tombs of prehistoric celtic tribes and ring forts long abandoned among the rocky fissures sprouting arctic and alpine wildflowers, with tiny Irish country villages at crossroads bounded by stone fences. In the heart of The Burren, the Gregans Castle Hotel is a stylish luxury retreat from the rush of the world, deep in the mystical landscape. The hotel, in a Georgian 18th Century country manor house, used as a summer getaway estate, gets its name from a earlier small tower house castle from the 13th Century built for the Princes of the Burren, the O'Loughlin clan.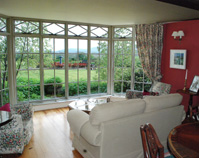 The Gregans Castle Hotel is set at the end of a breathtaking valley of the Burren Hills with a commanding view of the distant Galway Bay through the magical morning mists. The hotel's elegant landscaped gardens coexist in harmony with the surrounding wild trees and greenery. The interior spaces of the hotel offer a charming mix of stylish fine antiques and luxurious furnishings combined with a personal collection of modern Irish art. The warmth of turf fires in the many fireplaces, candle light, shelves of books and great jug vases filled with fresh wild flowers offer the discerning guest an authentic period setting to while the time.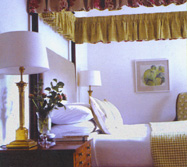 Each of the bedrooms is decorated in exquisite county house style, with the finest linens. And to complete the feeling of being lost in time, you'll find no televisions at the Gregans Castle Hotel, so enjoy the peace and solitude of a world away. The Gregans restaurant features organic local produce, fresh Atlantic fish, Ballyvaughan lobster, Burren lamb and beef in a seasonal menu of traditional Irish country food with a contemporary flair, served with an extensive selection of organic wines. The four star Gregans Castle Hotel is owned by the Haden family and managed by Simon Haden and his wife Frederieke McMurray. Accomodation is bed & breakfast style with prices ranging from €195 for a double in the low season to €450 for a suite in the high season.
The Gregans Castle Hotel is located 5 kilometers south of Ballyvaughan Village on route N67 through the Burren and about 15 minutes from the famous landmark Cliffs of Moher on Ireland's Atlantic coast (see Cliffs of Moher) and cruises to the Aran Islands from Doolin. About an hour drive from Shannon Airport or Galway. © Bargain Luxury Travel
Book a Bargain Deal at Gregans Castle Hotel
Find best travel and hotel deals in West Ireland on Tripadvisor
These articles are copyrighted and the sole property of Bargain Luxury Travel and WLPV, LLC. and may not be copied or reprinted without permission.
More Ireland Luxury Getaway See Also
Glenlo Abbey Hotel in Galway
Dromoland Castle Hotel & Golf Resort Shannon - County Clare
Cliff House Hotel Ardmore - West Waterford County
Mount Juliet Hotel & Golf Kilkenny