BARGAIN LUXURY TRAVEL - ENGLAND
* No Longer Available
YORK'S HISTORIC CASTLE LUXURY HOTEL
Lendal Tower Hotel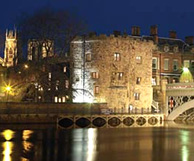 Lendal Tower is one of York's most important medieval landmarks. For 700 years the castle tower has stood watch over the Ouse River and its bridge entrance to the inner city, A few minutes walk from the one of the world's most impressive gothic cathedrals,York Minster, the "shambles" street of bent ancient half-timbered shops, where purveyors have offering fine goods since the 1600's, the York Rail Museum and steps from the York Boats dock on the Ouse River at the walkway dedicated to Dame Judy Dench. The great history of this medieval stone fortress can be enjoyed by a luxurious stay within its walls at the luxury hotel of Lendal Tower. This property is part of the Bretton Group of unique hotels in and around one of northern England's most fascinating historic cities, once one of its most powerful, still surrounded by medieval walls.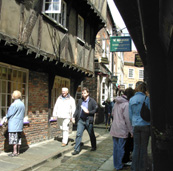 The Georgian Houses and Victorian Pump House rooms have been converted to grand style four star fully serviced apartments in a private, enclosed environment discerning business and leisure guests. The accommodations within the medieval tower are arranged over three floors reached by a unique Art Deco period elevator. The hotel rooms are complimented by oak panelling, a library, lounge and dining hall, two double bedrooms and magnificent views of the city from the roof top. The castle garden features a famous "weeping elm" that is said to have been grown from a cutting taken from Napoleon's grave, before he was move to his current tomb in Paris..Whether you want to stay in the Tower or in one of the other luxurious apartments you can expect exquisite antique furnishings, luxury spa toiletries, complimentary drinks, modern kitchen, free broadband internet access and every other modern convenience.. And if you're in the mood for the blue blood life, the hotal can provide you with their private chef and your own English butler.
The Lamb and Lion Inn (formerly Four High Petergate) is located just behind the York Minster in an 18th Century Town House with a Restaurant with Rooms built onto the city walls at the Porta Principalis gateway of the ancient Roman Road into the city, otherwise known as the Bootham Bar or "Peters Gate". The garden provides beautiful views of the York Minster and easy access to touring the walls of the city. Individually designed rooms are dressed with Indonesian teak furniture, hand crafted beds and crisp white linen offering real comfort in comfortable historic surroundings.
*Apparently the deBretton Hospitality Group ran into some financial troubles in the tough economy of 2009 and closed or had to sell some of their properties.
Another Yorkshire Luxury Castle Hotel in Durham Lumley Castle
Find best travel vacation deals in Yorkshire on TripAdvisor
These articles are copyrighted and the sole property of Bargain Luxury Travel and WLPV, LLC. and may not be copied or reprinted without permission.
Or visit Bargain Travel Europe for European Travel Ideas