BARGAIN LUXURY TRAVEL - IRELAND
GOLF LUXURY IN IRELAND
Castle Hotels and Resort Courses in the Emerald Isle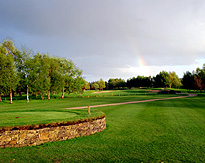 Golf was invented in Scotland and if Gourse and rock scrabble in wind blown highlands is your links preference, by all means, though Ireland, less familiar for its historic connection to the game, boasts some of the best golf courses of marvelous quality, set amid some of the world's most beautiful landscapes. Golf is certainly an outdoor sport and some players may enjoy the more challenging weather conditions but many prefer a more leisurely game with a little bit of comfort thrown in after the 18th hole. And many of the best Irish golf courses are connected with some of the most luxurious castle and manor hotels and resorts you'll find anywhere in the world. After the perfect approach shot and sunk long putt, a stroll among beautiful scenery, and relaxing luxurious dip in spa or sauna with a massage, and drinks in luxurious decorous surroundings make it worth a trip. The whole of the green island is replete with links and greens by world famous golf celebrity designers attached to top quality hotels, where you can walk straight from the course to refresh with an invigorating swim and gourmet cuisine in a five star world class restaurant.

Here are ten of Ireland's Luxury Golf Destinations:

BROOK LODGE HOTEL & WELLS SPA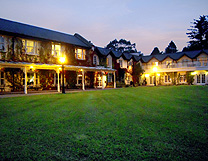 Just south of Dublin you'll find the Brook Lodge Hotel and Wells Spa, a stunning 4-star hotel set in the beautiful Wicklow Valley, actually taking over the site of a former village - MacCreddin. The Brook Lodge Hotel is home to the highly acclaimed Strawberry Tree Restaurant with its completely organic cuisine menu of meats and produce raised on its onwn farm just a few miles from the ancient monastic enclave of Glendalough. The golf experience at the Brook Lodge includes pampering at the Wells Spa. Macreddin Village boasts Actor's Country Pub & Brewery, an equestrian centre as well as the Paul McGinley designed Macreddin golf course which will be opening for Play in September, just in time for the Ryder Cup. Book Brooke Lodge and Wells Spa

WATERFORD CASTLE HOTEL

A bit further south, still less than two hours from Dublin, the Waterford Castle Hotel and Golf Club offers a spectacular facility iuniquely situated on a 310 acre island overlooking the estuary of the river Suir, three miles from Waterford City. Access to the island is by private car ferry. This 15th century castle furnished with antiques and rife with open fireplaces, combines the gracious living of an elegant past with every modern comfort service and convenience, an 18 hole championship golf course and excellent dining. Book Waterford Castle Hotel and Golf Resort

MOUNT JULIET HOTEL & GOLF RESORT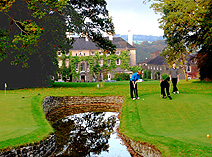 The award winning Mount Juliet Conrad hotel outside Kilkenney on lands which once belonged to the monks of Jerpoint Abbey, is one of Ireland's most prestigious golfing estates, playing host to the American Express World Golf Championship in 2002 on the Jack Nicklaus designed premiere course, and noted for its singular full 18 hole putting greens. The Mount Juliet Estate (see Mount Juliet Hotel & Golf Resort) offers horse riding, some of Ireland's best fishing, tennis, clay target shooting and archery are among the selection of activities.. Those who prefer to remain indoors can choose the stylish health club and spa or simply relax in the most idyllic surroundings of a gentleman's manor. Book Mount Juliet Hotel and Golf

PARKNASILLA

Traveling along the south coast to County Kerry you'll find Parknasilla. Upon first visit you will be overwhelmed by the beauty of the location. Overlooking the Atlantic Ocean, and majestic seascapes, rugged mountains and lush woodlands nourished by the warm Gulf Stream combine to make this an unspoiled haven of beauty and peace. Staff have been welcoming guests to this majestic accommodation since 1895 and with its own golf course on site you have a complete, self-contained luxury experience. Book Parksanilla Hotel


PARK HOTEL KENMARE

A brief drive away is the Park Hotel in Kenmare, County Kerry. This 19th Century era prime hotel offers an Elysian location overlooking the beautiful Kenmare Bay. Guests can also indulge in the experience of a true spa to rejuvenate the body, mind and spirit after challenging play on the 18 hole golf course.
DROMOLAND CASTLE HOTEL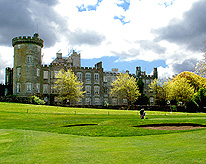 In County Clare a short distance from Shannon and its western Ireland airport, incredible Dromoland Castle Hotel is one of finest castle hotels you'll find in Ireland (see Dromoland Castle Hotel & Golf Resort). This castle, though a Victorian era update can trace its ownership back through history to Gaelic Irish royal lineage. The castle offers deluxe accommodation surrounded by breath-taking scenery, absolute luxury and exceptional service. Some of the suites at Dromoland are indeed fit for royalty. Its international reputation for excellence is reflected in its award-winning cuisine in both the Earl of Thomond and Fig Tree restaurants. Other facilities include fishing, shooting, horse riding, a health and leisure spa, and a newly designed 18-hole championship golf course. And be sure to take a horse drawn carriage ride through the estate for a journey back into a bygone past.

LOUGH ERNE HOTEL & RESORT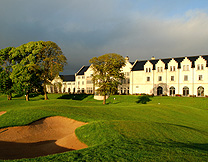 Lough Erne Resort was the dream of a local boy who imagined a world glass golf course on the shore of the lake which surrounds Enniskillin. An originally designed and purpose built luxury hotel in the form of an 18th Century French Chateau Lough Erne (see Lough Erne Golf Resort) will provide all the beauty and five star pampering you can imagine, with morning mists clinging to the Lough waters, which almost entirlely envelope the hotel on all sides with the perfectly maintained greens of the new course designed by golf great Nick Faldo. Indoors enjoy the roaring fires in the fire places throughout the hotel or chess the old manor style library and the sumtuous treatments of the Thai spa. Book Lough Erne Golf Resort

CULLODEN HOTEL BELFAST LOUGH

Another Northern Ireland Lakeland course stands on the wooded slopes of the Holywood Hills overlooking Belfast Lough is the magnificent Culloden Hotel. Originally built as an official palace for the Bishop of Down, the hotel stands in its own 12 acre estate and the Elysium Spa offers a full range of health and leisure facilities. Close by is the beautiful Holywood golf course with its breathtaking views over Belfast Lough the hilly parkland course is a real treasure and is ideally placed for the travelling golfer who wants to take full advantage of its great location. Book Culloden Hotel Belfast

RADISSON SAS ROE PARK HOTEL

County Derry boasts the Radisson SAS Roe Park Hotel in Limavady. This modern well equipped hotel and golf resort is set on a historic nineteenth century estate with an emphasis on quality cuisine and large spacious bedrooms well suited to families.
K CLUB STAFFAN - KILDARE

Finally, no list of luxury golf getaways in Ireland is finished without a mention of The K Club, venue for the 2006 Ryder Cup and Ireland's first five red star rated resort, located just 35 minutes from Dublin City's Airport. This elegantly restored country house opened in 1991 as a luxurious hotel and country club and offers the highest standards of comfort, service and cuisine. 92 bedrooms and suites offer stunning views overlooking the Palmer golf course and gardens. The Health and Beauty Club, fishing on the River Liffey claypigeon shooting, tennis, squash and a gym fill out the features of activities available at The K Club – not to mention the golf, of course. © Bargain Luxury Travel
Find best travel and hotel deals in Ireland on TripAdvisor
These articles are copyrighted and the sole property of Bargain Luxury Travel and WLPV, LLC. and may not be copied or reprinted without permission.
More Ireland Luxury Getaway:
Bushmills Inn Hotel - Antrim Coast
Monart Spa Hotel County Wexford
Cliff House Hotel Ardmore Waterford
Glenlo Abbey Hotel County Galway
Clontarf Castle Hotel Dublin