BARGAIN LUXURY TRAVEL - GERMANY
BAVARIAN ALPS LUXURY AT SCHLOSS ELMAU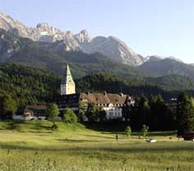 A world of unique Alpine luxury an hour south of Munich and a half mile above sea level The Schloss Elmau is a sanctuary of mountain seclusion listed with the Leading Hotels of the World. Schloss Elmau was constructed in 1916 by writer/philosopher Dr. Johannes Müller as a retreat for friends and artists and recognized as a architectural masterpiece set in the beauty and majestic tranquility of the Bavarian Alps. Three wings of the castle were destroyed by a fire in 2005. The new castle has been rebuilt by his grandson Dietmar Mueller-Elmau and re-opened as a five-star Superior Cultural Hideaway with two luxury spas, concerts halls hosting classical and jazz musicians, three libraries, a bookstore, an upscale shopping arcade and six restaurants for the gourmet palate.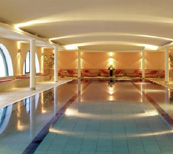 Enjoy spectacular views of Alps peaks in ultimate comfort and convenience. Relax in intimate interiors blending subtle oriental influences with precious natural materials: ancient stone in large bathrooms, hardwood floors of polished teak or oak, walls covered with pure silk, subtle lighting and flowers everywhere.Be pampered in an oasis of calm in perhaps the most beautiful Badehaus & Spa of the alps or rejuventate with your kids in a second Spa for families. Revitalize in a huge Nature Spa or with Sports unlimited in winter & summer. Visit the fairy tale castles of King Ludwig II. of Bavaria nearby: his favorite just a hike away. Savor innovative fusion cuisine from Asia to Italy and taste superb wines from Europe and beyond. Dance to live swing or chill out in restaurants, bars, lounges & terraces designed to inspire and enhanced by a passion for individualized service & care. Be yourself in time & space suspended.
The calendar of events at Schloss Elmau lists more than 100 concerts and several festivals for classical music, chamber music, jazz, world music & world literature as well as political debates with leading intellectuals from renowned academic institutions in Europe, the US & Israel.
Transcend ordinary hotel dining in six different restaurants designed to inspire. Taste sophisticated meals with complementing wines from the spectacular wine cellar with more than 10.000 bottles from around the world. Join your children in one of the Family Restaurants. Stay in your bathrobe while having your first breakfast or Ayurvedic Lunch in the Spa Restaurant. Celebrate English afternoon tea with some of the best teas from around the world, delicious sweets & pastries or with Latte Macchiato, Cappuccino and Espresso.
Executive Chef Michael Hüsken and his staff offer cooking classes to hotel guests sharing their culinary secrets – from inspired entertainment to regional cooking and spa cuisine. Few hours or a few days, work beside world class cooks for a truly hands-on experience to expand your culinary repertoire. Once a year, usually in November, the Schloss Elmau invites top chefs from a selected country to the Schloss Elmau International Gourmet Festival.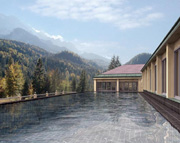 Schloss Elmau provides an excellent base to discover the majestic mountain scenery of the Alps on more than 70 mountain & valley hiking trails winding through a world wrapped in wildflowers. Mountain guides take you to the best panoramas of peaks & lakes. The famous hunting castle of King Ludwig II. is only a 3-hour hike away. Its interiors are as stunning as the surrounding views and the area is a paradise for mountain-bikers at all levels with the latest bike technology provided by the hotel at a moderate charge. Or explore the mountain surroundings on horseback or kayak, canoe, windsurf on the nearby lakes and rivers. Play a round of tennis on one of the three clay courts or have a refreshing swim in the crystal-clear Lake Ferchensee, just a 30-minute walk from the castle.
Guests of Schloss Elmau enjoy special privileges at three spectacular golf courses. Or learn golf the easy way with your children at a 9-hole course, only 10 minutes from the Schloss (a shuttle service is provided).
In winter, the Schloss Elmau is, of course, surrounded by some of the best skiing in the world. Innsbruck and Garmisch-Partenkirchen, host region cities to both Winter Olympics and World Ski Championships are within 10-30 Minutes drive not to forget the Zugspitz. Skiing Schools and Ski Safaris can be arranged by the hotel. © Bargain Luxury Travel
Find best travel and deals for Schloss Elmau and Alps Hotels on TripAdvisor
Relaxing Spa Vacation Getaways!
Other Alps Luxury Stays
Hotel Steffani St Mortiz

Carlton Hotel St Moritz
These articles are copyrighted and the sole property of Bargain Luxury Travel and WLPV, LLC. and may not be copied or reprinted without permission.

Or visit Bargain Travel Europe for European Travel Ideas