BARGAIN LUXURY TRAVEL - AIR
PRIORITY PASS
Fly like a VIP on an Economy Fare

Access VIP Airport Lounges with a Priority Pass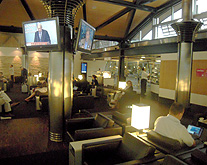 Flying was once a respite from the cares of the real world – an adventure, a getaway. Sky stewardess to cater to your whim in the lounge. Then, airplanes became crowded with packed seats, busses of the air, with security line making traveling a chore. Even an ordeal to be endured. Businesses used to regularly spring for Business Class or even First Class tickets, where frequent flyers could relax between flights in the Executive Lounge. But in a tight economy, those seats have moved to the back of the plane. Entrepreneurs are watching their budgets.

If you're a buisiness traverler, used to the relaxation of the VIP Lounge at airports - room to work and space to breathe, catch up with calls, rehearse a presentation, or just sit back, put your feet up and read a favorite book, but no longer flying on a qualifying business or first class ticket - or you're just a holiday traveler making a couple of trips a year, or journeys to see the family on the coasts, the Priority Pass opens the sanctum doors, offering entry into VIP lounges around the country and the world.

A VIP Lounge offers the best stress-relief at the airport. Escape the chaos of cancellations, flight delays and crowded departure halls and enjoy a quiet sanctuary where you'll find everything you need – for business or for pleasure. relaxing ambience – for both you and your guests, complimentary refreshments and snacks, in some cases free drinks, email, internet and conference space, working and leisure facilities
The Prioity Pass offers access to over 600 VIP lounges in more than 100 countries and 300 cities worldwide privileged access to over 70 Airport VIP Lounges in the U.S. guaranteed entrance use regardless of the class of travel or the airline you're flying.

How does the Prioity Pass work?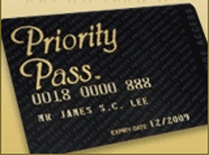 There are three levels of membership - an annual price at $399 for unlimited access to 600 VIP executive lounges at air terminals around the world, or two levels of discount membership $249 with 10 free visits included and $27 per visit thereafter or $99 where you pay $27 at the lounge for admission each time you use it. To get the best value, which level you select should be calculated on how often you travel. When you're flying, search the website for the available lounge at the airport through which your traveling. You can also download the lounge information to an iPhone, PDA, Blackberry or Pocket PC or use the SMS Lounger Finder service – text any airport code from your mobile phone, and the system responds with the information.

70 Business or First Class Lounges can be accessed in the US, with major airports around the world served. Nearly all major airports in the UK are represented, Heathrow, Gatwick, Stansted, Luton, Liverpool, Manchester, Birmingham, Bristol, Edinburgh, Dublin, Glasgow and Newcastle. International hubs in Europe, Paris, Zurich, Munich, Milan, as well as Mexico, Brazil, Columbia, Bahrain, Kuala Lumpur, Bangkok and Seoul, just to name a few.
Get a Priority Pass - 10% Off
Or Bargain Travel Europe for European Travel Ideas