BARGAIN LUXURY TRAVEL - GERMANY
DIE HIRSCHGASSE HOTEL - HEIDELBERG
Historic Hotel & Restaurant with Dueling Student History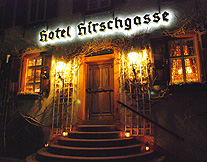 The ring of dueling rapiers still seem to echo in the ancient wooden beams, ghosts of the historic past when the student clubs of Heidelberg University would challenge their privileged machismo, when the young scions of great German families, like the count Otto von Bismarck would wear the scars earned in duels as proud badges of their years at the University. Mark Twain came to witness the tradition during his visit to Heidelberg and write of the experience in his "A Tramp Abroad". Though some mystery remains as to exactly where he stayed (see Mark Twain Slept Here?), he certainly dined in the famous restaurant of the Hirschgasse.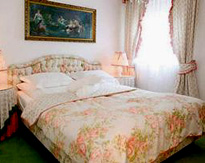 The Die Hirschgasse Hotel is a 500 year old Heidelberg institution, the city's oldest, a 4-star hotel of intimate luxury, with the original inn building dating from 1472, though it didn't become a hotel until sometime later. Located across the Necker River from the famous castle of Heidelberg, a ten minute stroll across the iconic bridge from the historic Old Town and a short stroll from the Philosophers Walk, the country style Die Hirschgasse is a member of the Small Luxury Hotels of the World group, with 20 elegant classic bed & breakfast style guest rooms, and 2 restaurants. Just up a small side street from which it takes its name (deer alley) the old white wash plaster walls of clinging ivy and shuttered windows conceal snug and cozy interiors of stone and half-timber wood beams accented with rich fabrics of Laura Ashley floral prints, and a blend of antique and contemporary furniture.
For visiting Germany castles see Favorite Castles of Germany.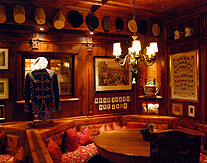 The Mensurstube Tavern where the clubs would meet for boisterous drinking and carousing, is more subdued these days, but retains the original rich wood furnishings, with names carved from the traditional academic atmosphere and the traditional menu, with walls lined with the museum mementoes, and the scars, of the student dueling days. The Le Gourmet Restaurant featuring French Mediterranean cuisine at the Hirshgasse has long had the reputation as one of the best restaurants in Heidelberg. You can try out a wine tasting session in hotel cellars to choose which wine you would prefer to drink with your dinner. The Die Hirshgasse Hotel offers a variety of packages from Romantic Weekends to Two Day Luxury escapes. © Bargain Luxury Travel
Book a deal at Hirschgasse Hotel Heidelberg
Read Review of Hirschgasse Hotel on TripAdvisor
Web Info
Die Hirschgasse Hotel
These articles are copyrighted and the sole property of Bargain Luxury Travel and WLPV, LLC. and may not be copied or reprinted without permission.
Wald & Schlosshotel Friedrichsruhe
Hotel Jagdschloss Kranichstein Darmstadt
Romantic Hotel Sackmann Black Forest
Weisser Bar Hotel & Spa - Mulheim on Mosel

Or visit Bargain Travel Europe for European Travel Ideas