BARGAIN LUXURY TRAVEL - FRANCE
HOTEL DU PARC - MULHOUSE
Central Mulhouse Jazz and Twenties Style in Alsace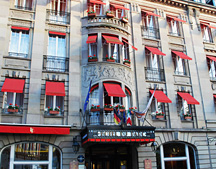 In the heart of Mulhouse at the crossroads of the French, German and Swiss borders, this 4-star luxury hotel with distinctive Art Deco style offers elegantly decorated guest rooms and an atmospheric Piano Bar with nightly live Jazz Music. The hotel in the center of town at Steinbach Park is conveniently located within a 5 minute walk from the central train station, with private parking nearby. The Hotel du Parc's 76 guest rooms and suits are individually designed, all with white marble bathrooms, flat screen TV and free Wi-Fi throughout the hotel.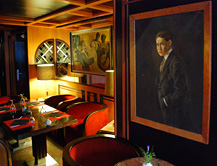 The story of the Hotel du Parc of Mulhouse is closely tied to the history of this fascinating city of Alsace where three countries meet. The Gangloff family had been residents of Mulhouse since the 19th Century. In 1904, Henri Gangloff, an art dealer with several business interests engaged architect Louis Schwartz to unify three buildings to house his art gallery and an antique store, with a library and a framing shop. Construction lasted from 1905-1906 with a neo-classic façade to reflect Parisian buildings. Art sculpture on the exterior has been possibly attributed to Frederic Bartholdi, the French sculptor of the Statue of Liberty, who was from nearby Colmar. On the second floor, some tenants, the Braun Brothers, installed a photography work shop, developing stereographs, sold by Gangloff. Then, came World War I and the building suffered damage as the French and Germans fought over Alsace.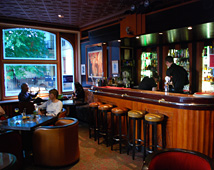 In 1926, the Hotel du Parc was opened in the midst of the Roaring Twenties as a world class luxury hotel, welcoming famous guests whose names can still be seen in the guest register book. In 1971, the hotel was acquired by the Brothers Schlumpf. The Schlumpfs were the sons of a textile magnate and Mulhouse industrialists, but spent extravagantly collecting cars, until their business crashed in a labor strike in 1977. The city got the Schlumpf Car Collection Museum and the hotel fell into bankruptcy and remained abandoned until 1988 when it was re-opened as the luxury 4-star hotel with a fascinating history it is today.
Charlie's Bar features a cozy atmosphere, ideal for relaxing with a cocktail at the end of the day, with French Alsatian cuisine in the restaurant by Chef Cindy Lachaux. The hotel's signature American style breakfast served in view of the English style garden at Le Jardin as part of its "The Art of Breakfast" offer, presents fresh organic eggs direct from the Oelenberg Monastery form the heart of omelets cooked "a la minute", with Wild Rose jam from Beyer in Mulhouse. © Bargain Luxury Travel
Book a bargain deal at Hotel Du Parc Mulhouse
Find best hotel and vacation deals in Alsace on TripAdvisor
Web Info
Hotel Du Parc
These articles are copyrighted and the sole property of Bargain Luxury Travel and WLPV, LLC. and may not be copied or reprinted without permission.
MORE FRANCE LUXURY GETAWAYS:
Chateau De Berne L'Auberge Provence
Marriot Champs-Elysees Paris

Le Hameau Albert 1er Chamonix
Le Morgane Boutique Hotel Chamonix
Or visit Bargain Travel Europe for European Travel Ideas