BARGAIN LUXURY TRAVEL - FRANCE
PARIS MARRIOT CHAMPS ELYSEES
5 Star Luxury Bargain on the Boulevard of Lights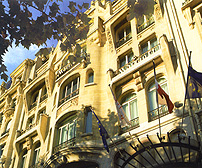 The Paris Marriott Hotel Champs Elysees, is noted as one the best hotels in Paris, with its historic Bel Age façade and lush beautiful atrium lobby. Originally built in 1914 as the Paris headquarters of Louis Vuitton, freshly refurbished in 2009 in the heart of glorious Paris along the Champs-Elysées, the world famous shopping boulevard which leads to the Arc de Triomphe, near to the Louvre, d'Orsay and Petit Palais Museums, the Paris Marriot provides a central point for luxury shopping at designer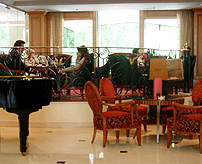 boutiques or the Galeries Lafayette, legendary dining and nightlife at Maxim's or the Lido Cabaret, and a short romantic stroll across the River Seine from the Eiffel Tower. Sure you could try for the George V or De Crillon, but the Marriot offers Paris five star luxury style with more bargain price breaks. If you insist on the fine life, but have an eye on your pocket book, (always a good idea in Paris), the Marriot fits the bill. The 174 rooms and 18 suites feature large flat screen TV, marble bathrooms with separate tub and shower, and rich Marriott bedding, which you can even buy for your home from Marriot online shopping.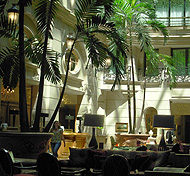 The Atrium Bar, located in the historic foyer, offers a relaxing setting for a Martini looking out over the bourgeois in the street cafes of the Champs-Elysées. The premier "Le Restaurant" serves up gourmet French cuisine in casually a elegant atmosphere presented with the savory international flavor palate of award winning Chef Jérémy Touzelet. For a casual lunch, dinner, or just an ice cream for that very European avenue gazing, grab a table at the Marriot Market Square on the Champs-Elysées. The Marriot provides the familiarty of a well known hotel chain without the Paris cultural attitude, and with the more casual atmoshphere you won't feel out of place without wearing Gucci.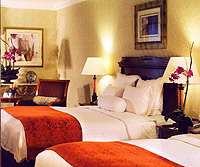 The Paris Marriott Hotel can provide for tickets to Paris attractions or shows through the concierge, complimentary newspapers delivered to your room or suite, a multilingual staff to cater to your whims in that unique French style, business center, valet dry-cleaning and free coffee in the lobby. Several rooms have great Paris views for a slightly high price than without and some with balconies. The hotel has onsite parking for €35 a day or off site for €2.50 an hour. Taxi from Charles DeGaulle is about €50, the Roissy bus from CDG to the Opera is €9, and subway is €8. Car rental can be picked up at the Louvre Carousel, or door service for extra charge. © Bargain Luxury Travel
Book a deal at the Marriott Paris Hotel Champs-Elysees
Compare best travel and hotel deals in Paris on TripAdvisor
Web
Marriott


These articles are copyrighted and the sole property of Bargain Luxury Travel and WLPV, LLC. and may not be copied or reprinted without permission.
More France Luxury Getaways:
CHÂTEAU DE BERNE L'AUBERGE - PROVENCE
BEL AMIS DESIGN HOTELS IN PARIS - RIVE GAUCHE
TAKE THE EUROSTAR CHUNNEL FROM LONDON TO PARIS

Or visit Bargain Travel Europe for European travel ideas