BARGAIN LUXURY TRAVEL
SKYLUX - Travel Manager
Business Class and First Class Seats at Discount Price by Phone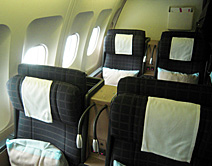 Whether you travel on business or leisure you want to travel in comfort in Business Class or First Class but you're looking to minimize the cost. Every smart businessman knows it doesn't hurt to save a little money. But searching for lost cost discounted upper class flights is time-consuming and everyone knows time is money. SkyLux is a travel service focused on finding available business or first class seats at a negotiated discount price. SkyLux does all the footwork to find the best-value solution to enhance your travel experience at a comfortable cost.

SkyLux delivers privately negotiated contract prices that others cannot find online. Your contact point is through a dedicated personalized Travel Manager you talk to on the phone. Remember that concept! SkyLux believes in the value of one-on-one service and not only do they sell the lowest airfares for business and first class, they also provide exceptional travel expertise. Callers can save up to 55% on business and first class flights all over the world!
SkyLux handles any routing, any airline, including multi-airline combinations. Priority confirmation on overbooked flights & waitlist clearance. Last-minute reservations and emergency adjustments even a few hours before departure. Tailor-made and complex itinerary construction to any part of the world, plus in-flight seat and meal assignments.

How SkyLux Pricing Works

SkyLux is a full service company that specializes in Luxury and Business Travel internationally. You get a customized quotation to allow you to determine the best choice available and cut your travel costs without sacrificing travel comfort. The exclusive offers are only available over the phone.

Travel Managers

SkyLux is a team of over 50 hand-picked business and first class travel managers with over 11 years of experience. When you call, one of the travel professionals is assigned to be Your Personal Travel Expert who sees that all necessary arrangements are made so that you have a smooth trip. They are available anytime via phone or email offering 24/7/365 global support wherever you are.
For U.S. and Canada Travelers Only.
These articles are copyrighted and the sole property of Bargain Luxury Travel and WLPV, LLC. and may not be copied or reprinted without permission.
More Air Travel
Aer Lingus discounted Business Class Aer Lingus
Swiss Executive Lounges Zurich Swiss Lounges

Or visit Bargain Travel Europe for European Travel Ideas