BARGAIN LUXURY TRAVEL - SWITZERLAND
SWISS EXECUTIVE LOUNGES - ZURICH AIRPORT
Relax or Work at Switzerland's Premiere Airport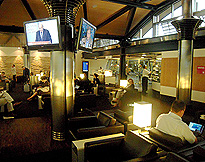 Okay, so you totally zonked out on that international flight on a Swiss Internatioanl flight through Zurich, succumbing to the arms of Orpheus and the irresistable seduction of the new lay-flat reclining seats in business class now on all of Swiss' international routes. You arrive in Switzerland's premier airport having totally booted that presentation you planned to prepare in the air, and you have a proposal meeting in the afternoon, or are heading off again to see new clients in Dubai or Zagreb. Never mind, the five Swiss Executive Lounges at Zurich will provide all the services and relaxation you need. Okay, you ask, does one airline really need five lounges? Need you ask, you expect the best, don't you?

Swiss Arrival Lounge
The arrivals lounge is for the mere mortal in economy. The chairman has decreed a cut back on travel costs and made you sit in the premieim economy seats behind the curtain. The airrival lounge is a perfect spot to freshen up after the flight, with work stations, photo copier and fax at reception, free wireless and LAN hookup, relaxation rooms, with a cafeteria, breakfast buffet and ten showers. The arrival lounge is only open from 6am to 1pm for morning arrivals and located inside passport control.

Swiss Business Lounge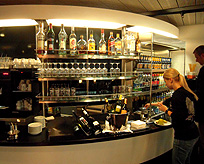 The business lounge is a large and comfortable escape from the bustle of the main terminal. With seating for two hundred, the lounge can get a bit hectic at high traffic times. Hot and cold snacks and Swiss specialities buffet, with complimentary bar, liquor, beer and wine, local and international newspapers, TVs and even a Sony Playstation. Access to the connecting Smoker's Bar is separated by glass. The business center has ten internet stations, copiers and fax are available at reception. Four showers separated into men's and women's with disabled access facilities. The business lounge is open unitl 11 pm.

Swiss First Lounge
A step up, the Swiss First Class Lounge is separate from business class, with a more luxurious elegant atmosphere, fine prepared a la carte food and beverages. The working space in first are set up as individual offices, equipped with Soy laptops, with a library, free wireless LAN, with conference rooms for meetings of your team, relaxation rooms, three showers and access to the separate Smoker's Bar. First also has two sleeping rooms with ensuite showers. Zurich International Airport offers limousine shuttle service directly to your flight. The First Class Lounge is open from 5:45am to 10:30pm.

Swiss Senator Lounge
The Senator Lounge is similar to first, though for Star Alliance Members as well as for loyal Swiss First Class travelers with seating for 128. The lounge over two floors with walls of sand colored Jura stone has direct access to the Smokers' Bar. The lounge offers hot and cold snacks, twelve work stations, free wireless LAN, showers. The Senator Lounge shares the reception area with the Business Lounge for services and concierge. The Sentor Lounge is open from 6am to 10:30pm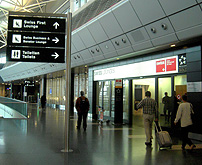 The Business, Senator and First Class Swiss lounges are next to each other in the main concourse of the Terminal B on the upper level inside Passport Control. Flight information is displayed on convenient screens to keep track of when your flight is boarding. Bear in mind though that the lounges are outside of the gate security, so allow enough time to get through the business and first security line and take the tram out to the departure terminal. Allow a bit extra for departures to the United States.
Swiss Senator/Business Non-Shengen Lounge B22-29
Swiss International provides a separate executive lounge in Terminal Diock B for gates 22 to 29 for Non-Shengen business and first class travelers not exiting the airport zone. This bright lounge with seating divided by flight class has views of the airport runways and aprons and similar services as Hot and cold snacks. Work stations, free wireless LAN. It is open from 5:45am to 8:30 pm. © Bargain Luxury Travel
Get a VIP Lounge Priority Pass
Get the latest SWISS offers - Book online!

These articles are copyrighted and the sole property of Bargain Luxury Travel and WLPV, LLC. and may not be copied or reprinted without permission.
See Also:
SWISS Direct from San Francisco