BARGAIN LUXURY TRAVEL
Airberlin FlyFlex Fares
Frequent Flyers Get Maximum Flexibility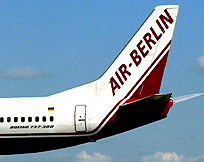 airberlin, Germany's second largest airline, serving intercontinental and intra-Europe routes with discount fares has launched a new fare structure called YourFare, with three different classes of booking, JustFly, FlyClassic and FlexFly. For the business flyer flexibility is essential when making travel plans. With its new FlyFlex fare class, airberlin is focusing on business travelers with improved service for last minute flight changes. The FlyFlex fare category available in both Business Class and Economy (on some routes) ensures a high degree of convenience and flexibility, providing for bookings that can be made right up to the time of departure, with added luggage allowance. Passengers booking with this fare category can check in two items of baggage and take two items of hand baggage on board. Seat reservations and the cancellation option are included in the price. If a changed flight is rebooked, the passenger only needs to pay the difference between the two flights.

Fliers on airberlin with a FlyFlex booking can enjoy the benefit of Priority Services such as Priority Fast Lane boarding, and get a mileage bonus of 150%. But not only for business travelers, airberlin also offers child reductions on FlyFlex fares. A snack, hot and cold drinks, newspapers and magazines are complimentary for all passengers on every airberlin flight within Germany and Europe. Passengers on long haul flights can enjoy additional comfort in the newly refurbished cabins with state-of-the-art entertainment systems and two meals in both business and economy class along with complimentary beverage service. airberlin currently operates from seven North American gateways and in March of 2013 will introduce new nonstop service to Berlin from Chicago.

For more information on airberlin flight schedules and fare specials, and more information of the FlyFlex fare visit airberlin online. Airberlin is a member of the oneworld® global alliance operating codeshare flights with American Airlines, British Airways, Finnair, Iberia, Royal Jordanian, S7 Airlines and Japan Airlines.
Web Info
airberlin US
These articles are copyrighted and the sole property of Bargain Luxury Travel and WLPV, LLC. and may not be copied or reprinted without permission.
More Air Travel
Aer Lingus discounted Business Class Aer Lingus
Swiss Executive Lounges Zurich Swiss Lounges

Or visit Bargain Travel Europe for European Travel Ideas