BARGAIN LUXURY TRAVEL
airberlin Introduces an Auction Option for Business Class Upgrades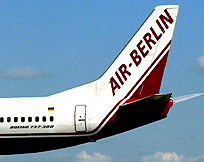 airberlin,is one of the leading airlines in Europe with flights to 171 destinations worldwide each year. And starting this year airberlin is the first German airline to offer auctions for Business Class upgrades on long-haul flights. Passengers with coach tickets on airberlin can now treat themselves to an exclusive flight experience in Business Class on the spur of the moment. Decide how much a seat in Business Class is worth and make an offer.
With "airberlin exquisite", passengers have the option to bid for a Business Class Upgrade for up until 72 hours before departure. To see whether an upgrade is available check the ticketed flight at airberlin.com/upgrade and submit a bid. Passengers submitting a bid for Business Class will be notified at least 12 hours prior to departure whether the bid was accepted. If the bid isn't accepted, you'll stay in your coach seat.

An upgrade to Business Class gives flyers all the luxury of the new airberlin Business Class, along with benefits such as priority check-in, fast Lane boarding and lounge access. In the spring of 2014, airberlin finished outfitting all its Business Class cabins with new FullFlat seats, offering its guests fully horizontal beds for overnight flights. The configuration, with thirteen single and six double seats, allows for more privacy and ensures that every seat has aisle access. First-class entertainment system and gourmet meals from the Sansibar restaurant round off the exclusive flight experience.

airberlin's route network from the U.S. includes nonstop service from Chicago, Ft. Myers, Los Angeles, Miami and New York to the airlines international hubs Berlin and Dusseldorf with convenient connections to premier destinations all over Europe. Along with the oneworld® codeshare partner American Airlines airberlin provides its guests access to airberlin's U.S. gateways from up to an additional 60 cities within the United States thus offering seamless connectivity.

Web Info
airberlin US
These articles are copyrighted and the sole property of Bargain Luxury Travel and WLPV, LLC. and may not be copied or reprinted without permission.
More Air Travel
Aer Lingus discounted Business Class Aer Lingus
Swiss Executive Lounges Zurich Swiss Lounges

Or visit Bargain Travel Europe for European Travel Ideas