BARGAIN LUXURY TRAVEL - SWITZERLAND
BEAU RIVAGE GENEVA
Little Grand Luxury Palace on Lake Geneva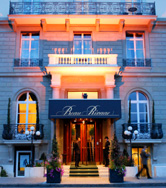 The historic Beau Rivage in Geneva is the one of the great grand hotels of the gilded age and the oldest privately owned hotel in Geneva. Intimate in scale, but like a little palace of marble on the lakeside. First opened in 1865 the Hotel Beau Rivage has been host to princes, celebrities and world leaders since its beginning. King Ludwig II of Bavaria, King George I of Greece and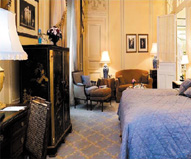 the Japanese Emperor Hirohito have stayed within its suites. Aside from world class luxury and service the hotel is rich with history. In 1873, Charles the Duke of Brunswick endowed the city of Geneva to erect a monument to himself in view of the lakeside windows of the hotel on the Quai Mont Blanc. In the 1890's the Empress Elizabeth of Austria was assassinated by an Italian anarchist on the hotel lawn while heading for a boat on Lake Geneva. Today, you might run into Princess Caroline of Monaco or Catherine Denueve staying in the lake view suites. Sothebys auction house in Geneva has a base in the hotel.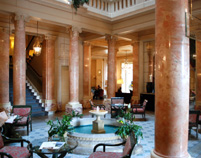 The Beau Rivage has the intimate and elegant style of a period past with the modern updated amenities expected of the great 5-Star luxury palace, with an exclusive 73 rooms and 18 suites. The magnificent marble rotunda atrium greets you upon entering, letting you know you're in a special place. The hotel's internationally recognized restaurant Le Chat Botté and the L'Atrim Bar offer dining elegance and relaxed comfort. The hotel's Chef de cuisine, Dominique Gauthier has been honored by Gault Millau with "Top French Swiss Cook of the Year" for extraordinary dishes of a rich originality and the world class wines from the 100 year old wine cellar. In the summer, the suspended terrace, overlooking the lake and the snowy peaks of the Mont-Blanc mountains presents a magical atmosphere. At the Beau-Rivage in Geneva, those privileged enough enjoy a stay at Geneva's first in luxury property can say life is indeed royal. Weekend packages at the Beau Rivage Hotel Geneva start at 430 chf per night. © Bargain Luxury Travel
Find a Bargain Deal at Hotel Beau Rivage Geneva
Find best hotel and vacation deals in Geneva on TripAdvisor
These articles are copyrighted and the sole property of Bargain Luxury Travel and WLPV, LLC. and may not be copied or reprinted without permission.
More Switzerland Luxury Getaways:
Badrutt's Palace Hotel St Moritz

Carlton Suites Hotel St Moritz
Hotel Steffani St Moritz
Wilden Mann Hotel and Restaurant Lucerne
Hotel Ambassador Zurich
Chateau D'Ouchy Lausanne
Hotel des Trois Couronnes Vevey
Switzerland By Rail Swiss Scenic Travel