BARGAIN LUXURY TRAVEL - SWITZERLAND
AMBASSADOR HOTEL - ZURICH
Lakeside Luxury Bargain at the Opera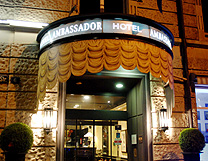 In a city renowned for its captains of finance and diamond studded Rolex watches, Zurich has its share of luxury hotels which come at a very steep price. If you're looking for a deluxe style which doesn't require a numbered bank account, the boutique Hotel Ambassador will make for an intimate luxury bargain stay in Zurich for business or pleasure. A four star Swiss Quality Hotel with 45 rooms on four floors in a turn-of-the-century building located just behind the Zurich Opera House, the Ambassador Hotel is just block from the shore of Lake Zurich and close to the Bahnhof Stadelhofen. The Ambassador is perfectly suited for a morning jog along the lakeside promenade or a leisurely stroll to the Zurich old town. Enjoy a drink in the uniquely decorated intimate bar, or wander over to the famous Odeon Café nearby. Zurich's Bahnhofstrasse shopping street is a 10 minute walk, or short tram ride.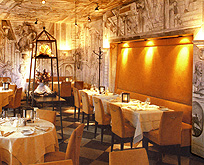 The Hotel Ambassador is casual and unpretentious, and typical for a European hotel an older city center building the rooms are a smallish, but comfortably and tastefully decorated in a classic elegant style, designed by famed interior decorator Roland Schön. A walk down the hall to your room, the doors will remind of bank vaults, so appropriate for Zurich. The rooms are equipped with electrically adjustable beds and flat screen TVs with video and internet on demand. The unique Restaurant A L'Opera, transformed by artist Tatiana Tiziana, the walls turned into a surrealistic world of neo-Baroque symbolism with motifs illustrating scenes from various operas. The restaurant has been recognized by the Guide Bleu and awarded a "Goût Mieux" for its fresh fish cuisine.
For special occasions the Ambassador Hotel offers a springtime special package including champagne buffet breakfast. For opera fans, the Opera package includes a performance of the current presentation. At New Years, the Ambassador hosts rooftop viewing of the Lake Zurich fireworks (see Zurich for the Holidays).
Book a Bargain Deal at Hotel Ambassador
Find the best travel and hotels deals in Switzerland on TripAdvisor
Web
Ambassador

These articles are copyrighted and the sole property of Bargain Luxury Travel and WLPV, LLC. and may not be copied or reprinted without permission.
More Switzerland Luxury Getaways:
Badrutt's Palace Hotel St Moritz

Carlton Suites Hotel St Moritz
Wilden Mann Hotel and Restaurant Lucerne
Hotel des Trois Couronnes Vevey
Park Hotel Weggis Lake Lucerne

Switzerland By Rail or Bargain Travel Europe for European and Swiss travel ideas