BARGAIN LUXURY TRAVEL - ENGLAND
MACDONALD COMPLEAT ANGLER HOTEL - MARLOW
Country Life Luxury and Fine Dining On the River Thames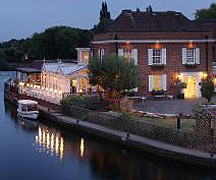 The "Compleat Angler, or the Contemplative Man's Recreation", was a tome written in 1653 by Isaak Walton as a guide to the quiet solitude and contemplative art of fly-fishing, extolling the pleasures of country life as an escape from the bustle of the city – in the 17th Century! The author of the Compleat Angler has since been referenced by other more famous writers like Charles Dickens and Jules Verne. While Walton wrote of other rivers and steams, the principal focus of his idyllic picture of riverside beauty and landscape was the Thames River west of London flowing through the countryside from to Oxford to Marlow.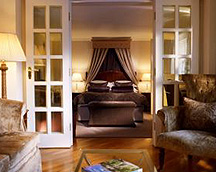 Life in the city of London has much changed since the days of Walton, but the romance of the River Thames can still be enjoyed at the award-winning Macdonald Compleat Angler Hotel in Marlow, less than an hour from central London. The hotel has no real connection to the book on fishing, but inspired by its values and heart of the beauty of the Thames. Located next to the cascades of Marlow Weir, the Compleat Angler provides a perfect riverside retreat, close by to the horses of Royal Ascot, tradition river rowing rivalries of the Henley Regatta (see Henley Rowing), the regal pageantry of Windsor Castle and the Olympic training centers of Bisham and Dorney Lake. The MacDonald Compleat Angler Hotel with its two award winning restaurants, the romantic Bowaters for sophisticated English food featuring Scottish beef and local produce and contemporary French cuisine of the riverside Aubergine Restaurant to compliment 64 rooms of 4 star luxury accomodation has earned a four AA red star rating and SouthEast Large Hotel of the Year in 2008. The Compleat Angler claims the unique distinction of being the only public restaurant outside of London to have hosted Her Majesty, Queeen Elizabeth. The lounge bar at the Compleat Angler Hotel was once a favorite of writer T.S. Elliot and F. Scott Fitzgerald for its river views through bow windows or sunshine on the riverside lawn and terrace. In winter, a roaring log fire warms as the early sunset light fades over Marlow Bridge.
For visiting castles in England see Favorite Castles of England & Wales.

The Compleat Angler Hotel is surrounded by the activity opportunities of Buckinghamshire attractions. National Trust historic house and and royal gardens, championship golf courses, one of south east England's most popular family attractions, Legoland, the Roald Dahl Museum, indoor all year round skiing at the XScape, hot air ballon flights and of course, river boating. © Bargain Luxury Travel
Web
Macdonald Hotels - Compleat Angler
Book a deal at the Compleat Angler Hotel Marlow
Find best travel and hotel deals in London on TripAdvisor

These articles are copyrighted and the sole property of Bargain Luxury Travel and WLPV, LLC. and may not be copied or reprinted without permission.
More England Luxury Getaways:
Pennington Hotel - Cumbria Coast
The Grove Country Estate - Hertfordshire
Eurostar - The Chunnel Train - London - Paris
Or visit Bargain Travel Europe for European travel ideas