BARGAIN LUXURY TRAVEL - WALES
MORGANS HOTEL
Boutique Luxury at Swansea Waterfront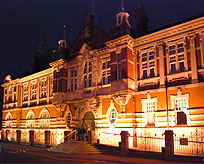 The Morgans Hotel in the waterfront center of Swansea began life as a government office building housing the Swansea Harbour Trust. Originally built in 1903 in a nouveau Baroque style designed by architect Edwin Seward, visually distinctive with its elaborate façade of red brick clad in white stone trim, topped by an Italianate bell tower. Inside the halls features stained glass and murals depicting maritime themes. Located next to the Dylan Thomas Center and a short stroll from the revitalised Swansea Harbor, the Morgans Hotel brings a note of elegance to the former maritime neighborhood.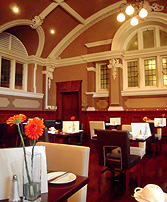 The Morgans Hotel a luxurious boutique accomodation with 42 rooms, 20 in the main building and another 22 in the adjacent restored Regency building annex. Sometimes given the rating of 5-star hotel by the tourism board, the Morgans is more in line with a international 4 star hotel, but what's a star between friends. The room designs in the historic building are decidedly and unapologetically modern, for a hotel which started life as offices, with beds of crisp white linen and Eqyptian cotton, furnishings of silks and suede, plasma tvs and "daring" double showers. The main building rooms start at £125 up to £250. The townhouse rooms are little less posh, but a bargain starting at £65, though requiring the crossing of a street from the reception.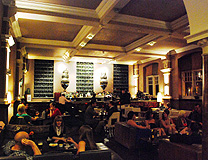 The Morgans Bar is a popular city nightlife spot, the place to be seen, its soft sofas filling up with a mix of locals in lively conversation from fairly early to late. The Champagne Bar is a bit quieter and the outdoor patio can be a pleasant alternative in good weather. The bar offers special wine selections and a bar lunch and dinner food menu. The Morgans Restaurant upstairs on the first floor in the former grand boardroom serves a contemporary European menu under the high arched ceilings, also the location for breakfast. For a little more intimate dining, the Atrium offers space, under a glass roof. Morgans Hotel. The hotel offers holiday packages as well wedding services.
For visiting castles in Wales see Favorite Castles of England & Wales.

The Morgan Hotel is within an easy walk from the harbor channels with a number of bars, restaurants and traditional pubs in the now trendy area, along with the National Waterfront and history museums, city center, the Aquatic House and the Dylan Thomas Center, just follow the nose of Dylan Thomas' statue. The Mumbles and Gower Coastline are 10 minutes away. The hotel provides a dedicated parking lot in front just off the busy Oystermouth Road. The operators of the Morgans Hotel also operate a sister hotel, the Cawdor Arms in Llandeilo, Carmarthenshire.© Bargain Luxury Travel
Find best travel and hotel deals in Wales on TripAdvisor
Web
Morgans Hotel
These articles are copyrighted and the sole property of Bargain Luxury Travel and WLPV, LLC. and may not be copied or reprinted without permission.
More UK Luxury Getaways: