BARGAIN LUXURY TRAVEL - CARIBBEAN

HOTEL LE TOINY – ST BARTHS
Sunshine, Champagne, Gourmet Cuisine and Privacy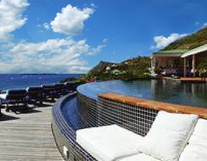 Caribbean island intimacy, elegant exclusivity and privacy have been the defining hallmarks of the Hôtel Le Toiny in St Barthelemy since its origins in 1885. This world renowned Relais & Chateaux hotel property located in the French West Indies of tropic breezes, and set in the Côte Sauvage area of the island, the hotel's exclusive pastel-colored bungalow Villa Suites are situated on a gentle slope overlooking the bay of Toiny and the Caribbean Sea. Each individual private cottage surrounded by lush tropical vegetation, has its own gated entrance, with the signature a red mailbox flag serving as its "Do Not Disturb" sign. This emphasis on privacy has long attracted discerning quests looking for a unique and privileged spot to escape the everyday. .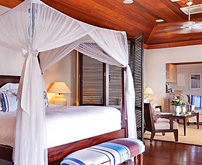 The Hotel Le Toiny, which recently underwent a million dollar renovation, architecturally evokes an old plantation lifestyle house of the French West Indies. The vistas look out over a lagoon with the sea beyond – its beautiful setting, privacy and impeccable service, attracting music stars, Hollywood A-list celebrities and corporate CEO's to this island escape. An artful blend of contemporary features with Le Toiny's signature classic French Colonial Style, features elegant 4-poster canopy beds and swimming pool of gorgeous blue Italian-tile, shaped in a half-moon with an infinity edge, which has attracted the lenses of world photographers, is just a short stroll from the cottages. Or head to the beach for an au naturel swim in the lagoon.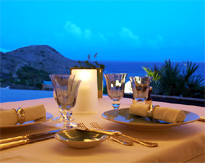 Le Toiny is known for its poolside restaurant, Le Gaïac, where candle-lit white clad tables in the golden hour evenings, gentle sea breezes and soft piano music, make for a memorable culinary experience. Chef Stephane Mazieres is a gastronomic artist known for accomplished cuisine, a masterful blend of innovative French cuisine with local flavors. On Tuesdays during high season, they offer a fun and casual dining experience called the Fish Market. Le Gaïac also serves the best Sunday Brunch on St. Barth – but definately make a reservation.

Hotel Le Toiny is offers three levels of packages

Junior Suite
The Junior Suite is completely secluded and offers an ideal balance of privacy and luxury. Decorated in updated contemporary style, this expansive room has three large glass-paneled doors that open to the outdoor patio and provide partial views to the Caribbean Sea and the glistening Bay of Toiny.

One Bedroom Villa Suite
Each of the One Bedroom Villa Suites is completely secluded, offering an ideal balance of spaciousness, luxury and privacy. Decorated in a sedate French colonial style, the two rooms are separated by sliding partitions and feature three large glass paneled doors which open to the terrace and private pool area and offering wide stunning views of the Caribbean waters. Since each Villa Suite is a free standing Caribbean style cottage surrounded by tropic vegetation, each has a unique view of the landscape and ocean.

La Villa Three Bedroom Villa
Surrounded by beautiful landscaping, the largest Suite, called La Villa, occupies the most private portion of the property, boasting a Master Villa and two luxury bungalows.The Master Villa's spacious interior features a vaulted ceiling, hardwood floors and French Colonial décor, with a large living room, kitchen corner and a bedroom with a traditional four-poster bed of deep mahogony. Large opening bay windows lead to an expansive terrace with a spectacular ocean view and private secluded pool. Located steps from the Master Villa are the two bungalows: one with a four-poster bed, the second providing two Twin beds, each having adjoining bathrooms with open shower, dual wash basins and Italian tile. © Bargain Luxury Travel
Read Review of Hotel Le Toiny on TripAdvisor
These articles are copyrighted and the sole property of Bargain Luxury Travel and WLPV, LLC. and may not be copied or reprinted without permission.
Web Info
Le Toiny Hotel
More Luxury Getaways:
Charleston Historic Inns

Wedgewood Hotel & Spa Vancouver
Chateau du Sureau Sierras California

Visit Bargain Travel Europe for European Travel Ideas