BARGAIN LUXURY TRAVEL - CALIFORNIA
CHATEAU DU SUREAU
French Chateau Style Luxury Hotel in the California Southern Sierra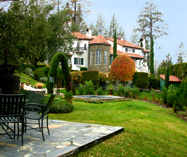 How unlikely is it to find a luxurious French style chateau among the pines and oaks of the southern Sierra Nevada Mountains outside of Fresno (yes, the raisin capital of CA). On Highway 41 in Oakhurst, a small mountain community at the south end of the 49 Highway where it meets the route to the south portal of Yosemite National Park, the Chateau du Sureau, though of modern construction, has been inspired by the castle chateaux of Europe. Beautifully furnished rooms and lounges evoke a stay in a ducal palace in Provence, nestled in the peace and tranquility of the gold country foothills. Indulge in palatial tubs and curl by the in suite fire place, inhale the sweet aromas of the gardens and surrounding forest. Spend a day of pampering body wraps and massage and hydro treatments in the luxurious Spa du Sureau with incredible views of the mountains, or go hiking or biking in Yosemite National Park or many other nearby recreation areas. Dine in the sumptuous Elderberry House Restaurant where fine cooking meets gracious hospitality, with a selective seasonal menu and fine wine list. Food and wine classes are held twice a year in the spring at the Elderberry cooking school.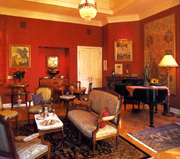 The Chateau du Sureau is a part of the Chateau & Relais worldwide group of exclusive luxury hotel properties. Reservations are taken up to a year in advance for the ten individually themed guest rooms, all (except one) with King sized bed, rich Italian linens, goose-down bedding, fireplaces, private balconies, antique furnishings and oversized baths. Room rates range from $375 to $575 per night for two. A two night minimum stay is required on weekends. Oakhurst and the Chateau de Sureau are about 3 hours drive from San Francisco and 4 hours from Los Angeles. The Chateau du Sureau has won the Five Diamond Award from the triple-A and five star rating from the Mobil Travel Guide. © Bargain Luxury Travel
Read Review of Chateau du Sereau on TripAdvisor
These articles are copyrighted and the sole property of Bargain Luxury Travel and WLPV, LLC. and may not be copied or reprinted without permission.
More California Luxury Getaways
Or visit Bargain Travel Europe for European Travel Ideas