BARGAIN LUXURY TRAVEL
LUXURY SAVINGS IN PORTUGAL _ MARRIOTT PRAIA D'EL REY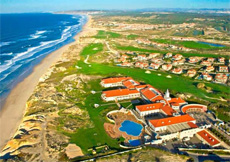 Portugal's many 5-star hotels represent a real value when compared to similar properties in other European nations. A full week at a 5-star hotel in Lisbon can be about the same price as just one or two nights at a luxury hotel in other European capitals. The lodging options throughout the country are varied and expanding. Travelers may find a unique, locally owned hotel such as the Lapa Palace and Pestana Palace in Lisbon, or high end properties like the Grande Real Villa Italia Hotel & Spa,
in Cascais, and the Aquapura Resort, near Lamego.

International companies are now offering luxury resorts in Portugal, including the Marriott Praia D'el Rey in Óbidos, the Westin Camporeal Golf Resort & Spa in Turcifal, the Hilton Vilamoura As Cascatas Golf Resort & Spa in the Algarve and Colombo's Resort on the island of Porto Santo.
Marriott Praia d'El Rey Beach & Golf Resort
Praia D'El Rey Marriott Golf & Beach Resort is a beautiful 5-star luxury resort hotel located just north of Lisbon on Portuga's western shore. The hotel offers 179 deluxe rooms (including 9 luxurious suites with PlayStation 2 systems) breathtaking views of the ocean and the golf course. The 18-hole championship golf course, ranked 13th of the top 100 courses in continental Europe by Golf World Magazine will challenge and delight any level of golfer. Resort guests can choose from two restaurants with cuisine to suit all tastes. The beautiful setting is perfect for luxurious weddings and corporate events.

These articles are copyrighted and the sole property of Bargain Luxury Travel and WLPV, LLC. and may not be copied or reprinted without permission.
Visit Bargain Travel Europe for European travel ideas