BARGAIN LUXURY TRAVEL - FRANCE
HOTEL DU PALAIS - BIARRITZ
Grand Style Legacy Luxury on Southern French Sea Coast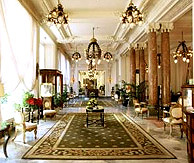 It's official, the French Government has added the new luxury hotel designation of Palace to the hotal already called a palais. A plaque of the new classification inteded to denote the ultimate a five star experience will be mounted on the hotel. The Hôtel du Palais in Biarritz was originally the southern France palace of post revolution Napoleon III and his wife, Eugenie, known as the Villa Eugenie. In 1854, the couple and their entourage took up summer vacation residence in the nearby Château de Grammont in the Saint-Martin neighborhood of Biarritz. Napoléon III purchased a land plot with a view of the Atlantic sea and constructed his summer palace, built in the style of the "Second Empire". After the end of France second attempt at empire, the palace was a turned into a casino and then reconstructed after a fire in 1903, transformed into unique charming luxurious style of the Hôtel du Palais.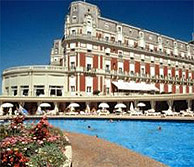 This quiet French seaside village was made famous by its reputation as a getaway for the golden era Hollywood and literati crowd. Originally a small fishing port on the shores of the Atlantic between the Basque and Gascony regions north of the Spanish border, Biarritz became at the turn-of-the-century, along with names like Monte Carlo, Baden-Baden and St. Moritz, one of the well-known European stops of wealth and glamour. Famous guests of the Hotel du Palais in Biarritz include Victor Hugo, Igor Stravinsky, Charlie Chaplin, Jean Cocteau and Ernest Hemingway, Queen Isabelle of Spain, Léopold II of Belgium and after being rediscovered following the ravages of WWII, Frank Sinatra, Gary Cooper and Jayne Mansfield in the 1950's.
By-passed now by new playgrounds like Las Vegas and Dubai, Biarritz retains its old world charm of a grand glamour world gone by with beaches, ocean views and launching point for exploring southern France, Gascony and nearby Spain Pyranees. Biarritz is still fashionable for those who enjoy a connection to history with prestige and tradition and value visitors can find comfort and regal service at the Hôtel du Palais.

The Hotel du Palais has 154 rooms but the unique featured stays are the royal suites, each with luxurious amenities, as well as an authentic and historical touch. The Edouard VII and Alphonse XIII suites on the first floor have been fully refurbished and offer a private terrace with impressive ocean views. Suite Edouard VII has been rebuilt with original decorations with the spacious area of a small house, 1600 square feet, including a unique round living-room, dining-room and a guest room. The royal era bathroom which includes a spa bathtub and Jacuzzi.
The walls and floors are elegantly decorated with Burma teak wood, Carrara marble and Italian ceramic vases. The guest rooms have televisions, mini-bars, independent dressing rooms and bathrooms. Suite Alphonse XIII has a similar layout but with an even larger massive floor plan of 1,905 square feet and its king-sized bathroom features a sauna. For those not staying in suites the hotel has a luxury spa and wellness center, sauna, massage, indoor and outdoor pool. and nearby 18 holes golf course.
Find a bargain luxury deal at Hotel du Palais Biarritz
Compare best travel and hotel deals in France on TripAdvisor
Web Info
Hotel du Palais

These articles are copyrighted and the sole property of Bargain Luxury Travel and WLPV, LLC. and may not be copied or reprinted without permission.
MORE FRANCE LUXURY GETAWAYS:
Chateau De Berne L'Auberge Provence
Bel Ami Design Hotels Paris
Marriot Champs-Elysees Paris
La Citadelle Metz

Le Hameau Albert 1er Chamonix

or Visit Bargain Travel Europe for European travel ideas