BARGAIN LUXURY TRAVEL - BELGIUM
RADISSON BLU ROYAL HOTEL - BRUSSELS
Art Deco Revival and Michelin Sea Grill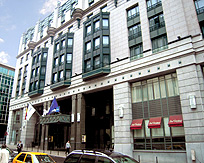 The Radisson Blu Royal Hotel in Brussels in an ideal location just off the De Brouckère square features a sleek art deco inspired facade and modern five-star amenities. The soaring glass domed atrium lobby incorporates a section of the old city Romanic Wall with balcony alcoves of the Atrium Restaurant suspended over reflecting waters reminiscent of an ancient ruin amidst the cascades of light through the tropical flora accompanied by live piano music. The vestige of the medieval wall which still traveses the foundation of the building once enclosed Brussels behind seven. It was at about the spot of the hotel where Everhard Serclaes, the Liberator of Brussels, breached the wall to free the city from the Earl of Flanders in 1356.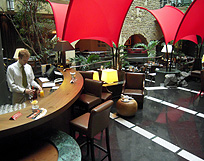 The 281 luxury rooms and suites of the Radisson Blu Royal Hotel come in a variety of five distinct styles - Art Deco, Classic, Maritime, At Home or Oriental, each designed with a palette of soft neutral colors offering a relaxing retreat from the bustling lively city. The upgraded business class rooms and luxury suites feature added amenities including access to the hotel's premiere Royal Fitness Club. The 2 Michelin star rated Sea Grill Restaurant of Executive Chef Yves Mattagne with its elegant and perfectly executed menu is one of the most heralded restaurants in Brussels. The city's fascination with comic art is highlighted in the stylish Bar Dessine, an extensive drink menu featuring international cocktails surrounded by the work of famous Belgian cartoon artists. For a nightcap, try one of most extensive selections of single malt whiskies in Belgium. A large Belgian super breakfast buffet is served every morning in the Pebble Wood Corner restaurant breakfast room.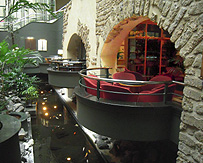 The staff at the Radisson Blu Royal Brussels can arrange one of several themed packages for a stay in the Belgian capital. Explore the surrealist art of Magritte (see Magritte Museum Brussels), the world of Belgian Beer, or take advantage of the Romance Package - perfect for a couple spending a holiday escape getaway in Brussels. Pampered yourself champagne, breakfast in bed in unique design bedrooms, showered with flowers, explore the city center of the Grand Place a stroll away through the Galeries Royales Saint-Hubert (see Royal Galleries St-Hubert). The Radisson Blu Royal Hotel provides easy access to the Brussels airport and the city's public transportation. The Central Station is just minutes from the hotel's front door, giving hotel guests convenient use of Europe's main rail line and the city's metro system. © Bargain Luxury Travel
Book a bargain deal at the The Radisson Blu Royal Brussels
Find best travel and hotel deals in Brussels on TripAdvisor
Web Info
Radisson Bly Royal
These articles are copyrighted and the sole property of Bargain Luxury Travel and WLPV, LLC. and may not be copied or reprinted without permission.
More European Luxury Getaways:
Take the "Chunnel Train" from London to Brussels

Or visit Bargain Travel Europe for European travel ideas