BARGAIN LUXURY TRAVEL - AIRFARE
SWISS FIRST CLASS
"Suite Above the Clouds" First Service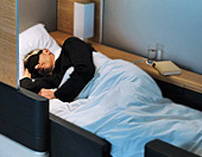 The premium national identity branded airline now simply known as SWISS (no longer the redundant Swissair) added a new First Class cabin on all of its international routes with new seating with individually adjustable with a person touch screen hand set, proving four present configurations for "Takeoff and landing", "Dining", "Lounge" and "Bed", with individually adjustable side walls for privacy and a convenient "guest seat" function allowing the First Class passenger to dine or work with a fellow traveler at a generously-proportioned table. The unique guest seat comes complete with its own backrest and armrests.

The SWISS First Class seat can be reclined at the touch of a button into a fully lie-flat bed that is more than six feet long, extendable for the taller passenger. It comes equipped with a down-filled duvet, and an innovative pneumatic air cushion that can be adjusted to individual preferences in any seating position. The seat has the largest in flight entertainment screen currently in the air at 23-inch diagonal.
Swiss provides 8 seats in the new first class and 45 to 48 seats in Business Class, depending on the aircraft as they gradually replace the A330-200 with newer A330-300 equipment. And of course Swiss flies to Geneva or Zurich, two of the most convenient and modern airports in Europe.

If the guest seat is the only first class you can afford, take one step back and fly in one of the best business class services in the air. SWISS is a member of the Star Alliance for those mileage hounds with a topped up mileage account.
Web
SWISS
See Also:
Swiss Zurich - First, Business and Senator Lounges
Swiss Business Class Summer Deal
Switzerland By Rail or Bargain Travel Europe for European and Swiss travel ideas