BARGAIN LUXURY TRAVEL - FRANCE
LA CITADELLE HOTEL – METZ
4-Star Luxury and Michelin Star in Former Military Fort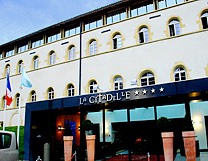 The La Citadelle Hotel of Metz has come a long way, from former military food storehouse to a premier hotel in the capital city of Lorraine. The La Citadelle is set in a tree planted park near the old historical center of Metz, where the Romans first established their stronghold in ancient days, later transformed into a massive 16th Century walled fortress to protect the important trade city on the Moselle River. The walls of the old Citadel fort are mostly gone and the building the La Citadelle occupies remained an empty historical monument until turned into the current luxury hotel by innovative owner, Christophe Defossé and his wife, Delphine. The conversion project has turned a former military food warehouse into a modern luxurious hotel design of forward contemporary décor emphasizing intimacy, wellness, and gourmet gastronomy.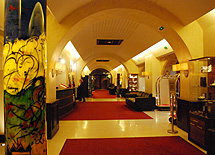 The La Citadelle Metz offers a central location between the Arsenal Concert Hall, the Metz Esplanade Park and the Governor's Palace. It is a perfect location to discover the center of town and its many attractions. Just steps away is the fascinating Templar Chapel from the city's height of power in the Middle Ages and the St Pierre-aux-Nonains Church, one of the most complete buildings of the Roman era, now an event venue. The new Centre Pompidou contemporary art museum which is now Metz flagship is just 10 minutes away. Dine in the gourmet restaurant, Le Magasin aux Vivres, where Christophe Dufossé, Metz' only Michelin star chef, blends classicism with invention, recreating the traditional French "national dish" of Quiche Lorraine with his own updated lighter take, and combining local homespun farm flavors with the exotic fare of tropical islands in a unique menu. Cooking demonstrations are offered on arrangement and for the wine enthusiast, Chef Sommelier Thomas Vimbert holds an "Introduction to Oenology" class on Saturday afternoons. For those who just prefer to relax with a casual drink and conversation, the Bar Ambiance Lounge, offers a wide variety of cocktails, single malt whiskies, champagne and exceptional wines in a cozy and warm atmosphere. © Bargain Luxury Travel
Book a bargain deal at La Citadelle Metz
Find best hotel and vacation deals in Lorraine Moselle on TripAdvisor
Web Info
La Citadelle
These articles are copyrighted and the sole property of Bargain Luxury Travel and WLPV, LLC. and may not be copied or reprinted without permission.
MORE FRANCE LUXURY GETAWAYS:
Chateau De Berne L'Auberge Provence
Bel Ami Design Hotels Paris
Marriot Champs-Elysees Paris

Le Hameau Albert 1er Chamonix
Le Morgane Boutique Hotel Chamonix
Hotel Du Parc Mulhouse

Or visit Bargain Travel Europe for European Travel Ideas