BARGAIN LUXURY TRAVEL - SWITZERLAND
HOTEL D'ANGLETERRE – GENEVA
Historic Luxury on the Lake Shore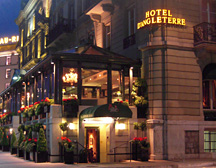 Set along the row of grand hotels on the edge of Lake Leman on Geneva's Riviera, the Hotel d'Angleterre is an intimate 5 star luxury hotel of only 35 rooms, and part of the Leading Hotels of the World and Carnation groups. This luxurious elegantly renovated property offers exceptional service and attention to detail. The individually designed suites and rooms combine classic traditional charm and with all the modern amenities. The lakefront rooms of this hotel offer panoramic views of the lake with its high shooting Jet 'D'eau and paddle wheel steamers with the majestic views of the French Alps and Mont Blanc beyond. Hotel D'Angleterre's spacious, air-conditioned rooms feature elegant furnishings and luxurious bathrooms with bathrobes and slippers and soundproof windows. Guests at Geneva's Hotel D'Angleterre are welcomed with a drink, homemade chocolate, and fresh fruit. The UN headquarters, financial district, the old town of Geneva and the shopping boutiques are within easy walking distance. The hotel has been voted on a number of "best in Switzerland" lists.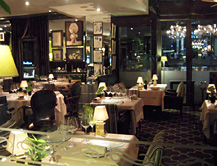 The name of the hotel derives from its popularity among the class of English travelers to the lake shore in the days of the Grand Tour. The current building dates from 1872, designed by celebrated hotelier architect Anthony Krafft (see Krafft Hotel Basel), conceived as a luxury stop for wealthy tourists to Geneva with 30 rooms and extended again in 1910. However, the current hotel has a connection to an extraordinary history. It replaced an earlier Hotel d'Angleterre (now gone and located where an office building stands next to the Hotel de la Paix) when the Secheron district was a suburb of Geneva, and among its guests where Mary and Percy Shelley, who stayed there before taking up a private rental across the lake near Lord Byron's Villa Diodoti. In fact, it may have been the view of Mont Blanc from one of the rooms of the older Hotel d'Angleterre which inspired parts of the writing of Frankenstein (see Mary Shelly Memoir Frankenstein Diaries).
Windows Restaurant
Take in the enchanting vista of the lake and distant mountains to experience five star international cuisine, matched with an extensive Wine List guided by the hotel's sommelier in first class professional. For a private gathering or event the stunning L'Observatoire, an exclusive, air-conditioned, private wing within Windows Restaurant offers even more elevated views over the lake as its glass conservatory style design makes it one of the most sought after dining locations in Geneva.
Leopard Bar & Lounge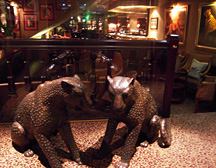 The d'Angleterre is renowned of the lakeside quay for its Leopard Bar and Lounge, in a fanciful version of a turn-of-the-century library style bar mixed with safari theme of leopards. Sink into the deep leather chairs, surrounded by tables made from authentic vintage Louis Vuitton suitcases and a variety of Leopard paintings and sculptures. Purr with the cats to to live music 6 nights a week when the lake is aglow with the long summer sun, or in cooler season relax in front of the fireplace for a fun night out with friends or a relaxing bite to eat in stylish surroundings.
Afternoon Tea
Faithful to its name and heritage of catering to the English touring class the Hotel d'Angleterre pays proper respect to the traditional ritual of Afternoon Tea. There's no better setting in which to indulge in this much-loved pastime in the company of friends or family with an array of treats awaits from finger sandwiches to homemade pastries, accompanied by an extensive tea menu or perhaps a glass of Champagne, or Absynthe, if you're feeling particularly romantic. © Bargain Luxury Travel
Book a bargain deal at Hotel D'Angleterre Geneva
Find best hotel and vacation deals in Geneva on TripAdvisor
Web Info
Hotel D'Angleterre
These articles are copyrighted and the sole property of Bargain Luxury Travel and WLPV, LLC. and may not be copied or reprinted without permission.
More Switzerland Luxury Getaway:
Le Montreux Palace Hotel Lake Geneva
Grand Hotel Jungfrau-Victoria Interlaken
Art Deco Hotel Montana Lucerne
Or visit Bargain Travel Europe for European Travel Ideas