BARGAIN LUXURY TRAVEL - ENGLAND
HARROGATE YORKSHIRE HOTELS
Luxury Hotels in North England's Victorian Spa City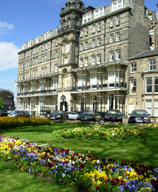 Harrogate in North England, between Leeds and York has been known as an elegant luxury destination of fame since the recognition of is spa waters in 1626. The distinctive odiferous sulfur infused hot spring waters which flowed from a deep spring attracted seekers of the waters of the Victorian Era. The original Tewitt Well is marked in the city by a 19th Century Domed pavilion at the Royal Pump Room. Nearby the newly refurbish Turkish Baths and Health Spa treat the modern visitor to the relaxing luxury of pampered body and beauty treatments. The nearby medieval town of Knaresborough with its royal castle was the more important town in earlier times, but since its destruction as a royalist stronghold in the English reformation, it is Harrogate that establishment itself as a wealthy Spa Town. Harrogate's resort status declined after the First World War, but after serving as a temporary government location during the Second World War, Harrogate became an exhibition and conference center. Its location in the beautiful surrounding Nidder Valley and the nearby Yorkshire Dales, makes it still a destination to be enjoyed for its elegant legacy, and one of England's wealthier districts.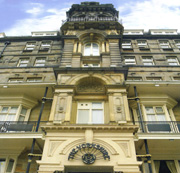 The Yorkshire Hotel is an historic hotel of Victorian Grandeur, refurbished into a contemporary center of old world style and modern comfort. In the heart of Harrogate, the Yorkshire Hotel is a short stroll to the spa baths, Royal Pump Room museum, Westminster Arcade and Victoria Shopping Centre, Harrogate's antiques and sweets shops, and of course the cakes and teas of the famous Bettys Café. The Yorkshire Hotel was during the war commandeered as a government administration building, but since has regained its place as Harrogate's premier luxury hotel, with a recent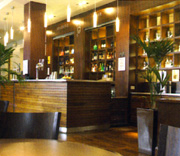 refurbishment to contemporary style, while retaining its original Victorian grandeur. The Yorkshire Hotel has 80 en-suite bedrooms, ranging from standard to executive, many with views of the old town of Harrogate and 8 luxurious full suites. You can select a room with a four-poster bed for the more romantic. The Hg1 Bar and Brasserie is a stylish addition for lunch, dining in style or just relaxing with a pint, as popular with locals as it is with guests. The rooms come with individual robes, slippers, fresh fruit and chocolates. The train station is 3 minutes away and Leeds airport 30 minutes by car.
Find a bargain deal at the Yorkshire Hotel Harrogate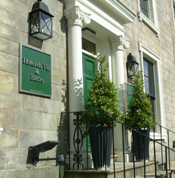 The Hotel du Vin & Bistro of Harrogate is one of a small collection of elegant luxury properties in unique locations, with a focus on wine and food appreciation as well as stylish accomodations. The Harrogate Hotel du Vin is located across from the Stray Commons.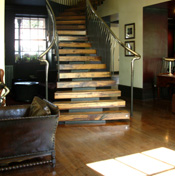 The hotel was created from a row of eight Georgian Townhouses originally converted to a luxury hotel in the 1930's. The hotel offers 43 bedrooms and several loft suites A few doors down from The Yorkshire Hotel, the Hotel du Vin presents an intimate elegance of design, with a passion for service, surrounding a French style bistro, eclectic furnishings and unsurpassed wine cellar, offering al fresco dining in the courtyard in the summer months, a billiard rooms, and wine tasting celler snug. There are seven Hotel Du Vin Bistros around England, mostly in resort destination towns. © Bargain Luxury Travel
For visiting castles in England see Favorite Castles of England & Wales.
Bargain deals at other Luxury Hotels in Harrogate
FAMOUS OLD SWAN HOTEL
THE GRAFTON
Find best travel vacation deals in Yorkshire on TripAdvisor

These articles are copyrighted and the sole property of Bargain Luxury Travel and WLPV, LLC. and may not be copied or reprinted without permission.
More England Luxury Getaways:
Montagu Arms Beaulieu New Forest - Hampshire