BARGAIN LUXURY TRAVEL - ENGLAND
ENGLISH HISTORY, LUXURY & ROYALS
Chester Luxury Hotels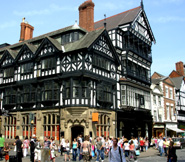 Chester in Cheshire between Manchester and Liverpool is deservedly one of England's most popular tourist destinations for commoner and royalty alike. Lewis Carroll was inspired to give Alice a magical journey in this green hillside land where England meets North Wales. Cheshire Cheese is an English gourmet delicacy. The Chester Races are held at the oldest horse racing course in Great Britain. The magnificent 16th Century half-wood buildings of Chester Rows have been a unique shopping experience since Tudor Elizabethen times. And Chester boasts a number of grand style old world luxury hotels to enjoy the sights, sounds and pleasures of this holiday vacation destination.
Chester Grosvenor and Spa Hotel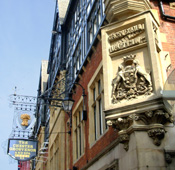 Located right in the heart of Chester's historic center, nearly underneath the famous Eastgate clock, the second most photographed clock in England (after Big Ben), steps from the Chester Rows, the cathedral, Roman ruins, Chester River and wall walk, the Chester Grosvenor and Spa has been the acknowledged elegant place to stay in this picturesque city since 1865, when coaches and fours clapped along the cobblestone streets. Owned by the family of the Duke of Westminster the Chester Grosvenor and Spa is one of only a handful of grand hotels outside London awarded 5 red stars and is recognized as one of the best luxury hotels in Northwest England.
With it's luxurious spa for pampered relaxation featuring Molton Brown and Elemis spa treatments, 80 individually designed bedrooms and suites of elegant style and comfort, two excellent restaurants featuring French cuisine, the Arkle has held it's Michelin star for 17 years, and the famed Library bar and lounge of rich woods and plush deep couches for that old English upper crust feeling. In fact, they don't like to advertise it for obvious reasons, but when the Windsor princes come to holiday in Chester, they stay at the Grosvenor. Chester Grosvenor
Book a Bargain Deal at Chester Grosvenor Hotel and Spa
Crewe Hall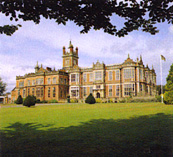 Originally built by the Earl of Crewe to entertain his royal guests in lavish style, Crewe Hall is a majestic Jacobean era stately mansion, once owned by the Queen of England under the Duchy of Lancaster (see Knarlesborough) . Crewe hall has 65 rooms, with 26 superior rooms and suits in the hall itself, 10 with four poster beds. The Royal Suite was host to King George V and Queen Mary in 1913. Other rooms are in the later added "west wing" and the Ranulph Restaurant offers intimate fine dining. Crewe Hall Hotel
Book a Bargain Deal at Crewe Hall
Chester Green Bough Hotel
This Victorian era Townhouse Hotel offers a combination of classic elegance and sophisticated modern style with the finests Italian linens, four poster beds, Elemis toiletries and entertainment centers. The Champagne Bar Lounge provides relaxing couches in front of the Charles II carved wooden fireplace. The Green Bough won the Enjoy England Best Small Hotel Award for 2006. Chester Green Bough

Nunsmere Hall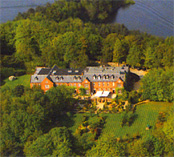 In Norwich, set in the midst of of the Delemere Forest and surrounded on all sides by lake shore and beautiful gardens, Nunsmere Hall represents the country manor elegance one thinks of as the English country life of Jane Austen. Located between Chester and Lyme Park in the Peak District used as a location in the Colin Firth BBC bversion of Pride and Predjudice, Nunsmere has 26 rooms with spectacular views of the lake and ground and an award winning restaurant. Popular for wedding receptions or just a tranquil countryside getaway. Nunsmere Hall
© Bargain Luxury Travel
Book a Bargain Deal at Nunsmere Hall
Find best travel and hotels deals in Chester on TripAdvisor

Relaxing Spa Vacation Getaways!
These articles are copyrighted and the sole property of Bargain Luxury Travel and WLPV, LLC. and may not be copied or reprinted without permission.
More England Luxury Getaways:
Compleat Angler Marlow - Buckinghamshire
Pennington Hotel - Cumbria Coast
Radisson Edwardian - Manchester
Or visit Bargain Travel Europe for European travel ideas