BARGAIN LUXURY TRAVEL - WALES
RUTHIN CASTLE HOTEL
Medieval Legends and Moat Spa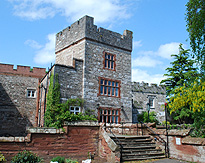 Set in a parkland of oak woods Ruthin Castle is a truly romantic hotel, steeped in history. The original castle dates back Edward I "Longshanks", built in 1282 for the English control of Wales, with connections to the legends of both King Arthur and Robin Hood. The medieval castle was built on the site of an earlier dark ages fort connected to Arthurian lore and a previous owner was the actual historical Sheriff of Nottingham. Throughout its existence Ruthin Castle has been owned and visited by some of history's most iconic figures including Henry VIII, and Queen Elizabeth I, King Edward VII, of "The King's Speech" fame, as well as the actress Lilly Langtree and Lady Randolph Churchill, when she was married to one of the castle's owners. As it stands now, the Ruthin Castle of the hotel, with its red brick ivy covered walls and entrance guarded by pink marble lions, was built in the mid-19th Century as a castellated Victorian revival estate manor for the Myddleton family.
With fifty-nine four star redesigned bedrooms, the castle turned comfortable manor house offers a decadent and luxurious accommodation where guests can enjoy the only one of the medieval "Iron Ring" of castle in Wales where it is possible to stay and sleep within the ancient walls. Book a stay in one of the many rooms with antique furnishings, four poster beds and decorative fireplaces. Dine on award winning cuisine created using only the freshest local produce at the AA 2 Rosette Bertie's Restaurant, and enjoy an evening of medieval themed banquet night events, get to business in facilities of a secluded venue or book a dream wedding within the ancient walls and picturesque grounds. Ruthin Castle is a royal Welsh gem just waiting to be explored, just an hour from Cheshire and perfect ideal base to explore the mountain woodlands and coast of Denbighshire and Snowdonia. Enjoy 'Royal Romance' getaways for couples, or partake in the Moat Spa.

The Moat

The Moat Spa which offers an "indoor and outdoor spa experience" resides in the rustic woodland grounds of the medieval moat, offering a playful yet sophisticated mix of natural beauty and luxury. The Moat is designed to challenge the concept of what has become the generic spa experience, drawing on the majestic North Wales setting with a combination of toasty dry outdoor sauna and invigorating hot tubs coupled with cool spring water showers. Take a soothing Seaside Body Wrap, then swing in a romantic cocoon seat in the refreshing summer breeze. In cooler months, snuggle up with a blanket on an over-sized lounger by the cosy fire. © Bargain Luxury Travel
For visiting castles in Wales see More Favorite Castles of England & Wales.
Book a deal at Ruthin Castle Hotel
Find best travel and hotel deals in Wales on TripAdvisor
Web Info
Ruthin Castle
Moat Spa
These articles are copyrighted and the sole property of Bargain Luxury Travel and WLPV, LLC. and may not be copied or reprinted without permission.
Or visit Bargain Travel Europe for European Travel Ideas