BARGAIN LUXURY TRAVEL - CALIFORNIA

OJAI VALLEY INN & SPA
Casual Luxury and Championship Golf in the Coastal Mountains


It is one of the premier resort escapes of Southern California 17 miles inland from the Ventura coast. The historic Five Diamond rated Ojai Valley Inn and Spa, surrounded by scenic hills and mountains, features a full health spa, world renowned championship golf course and five restaurants on a lush park-like oasis grounds with air redolent of lavender and coastal breezes, long known as an escape by Hollywood celebrities The Ojai Valley Inn & Spa has been one of the best kept secrets among travelers for its luxurious casual relaxed atmosphere with 308 deluxe guest rooms, including suites, many with fireplaces and private balconies or patio terraces overlooking the golf course and views of the nearby mountains.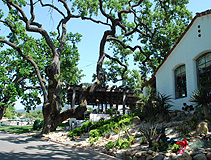 The Ojai County Club and Spa began as a private country club in 1923. Edward D. Libbey made his fortune in glass manufacturing with his Libbey-Owens Glass Company works to Ohio in 1888, making bottles and jars, then windshields for the new automobiles ultimately merging with the Ford Motor Company. Libbey first began spending winters in Ojai in 1908. He brought Wallace Neff, the legendary pioneer of the "California Style" of Spanish influenced mission architecture to design his country club. Libbey hired George Thomas who also designed the championship course for Riviera, Bel-Air and Los Angeles Country Clubs, to build his golf course to compliment the unspoiled beauty of the secluded valley known for its pink hues at sunset, making The Ojai Country Club one of the first great California golf courses.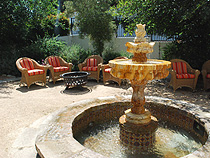 The resort and private club almost immediately attracted Hollywood movie stars to come to Ojai. Guest rooms were added in 1925 to 1930 for the popular exclusive getaway spot. The country club days ended for a time when war came, with inn transformed into Camp Oak, an Army training center for troops after the attack at Pearl Harbor. The camp was turned over to the navy toward the end of the war and closed in 1945. Two years later the Ojai Valley Inn Ojai Valley Inn & Spa opened, once again attracting an array of Hollywood stars like notables Clark Gable, Judy Garland, Walt Disney and Loretta Young. It was Ronald Reagan's visits to Ojai that first got him thinking about a ranch in the coastal hills.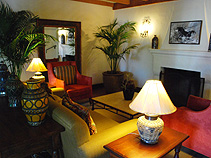 Rooms at the Ojai Valley Inn and Spa feature exclusive "Ojai Nest" bedding and Spa Ojai bathroom amenities. Flat-screen TV and a radio with iPod connection are also included. The Spa Ojai welcomes guests with warm, exotic rooms featuring a wide selection of massages and treatments, with along menu of mind and body fitness classes available. In addition to two pools at the spa, the resort offers a large, outdoor family swimming pool with food and beverage service.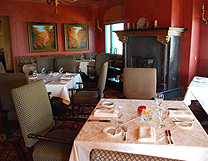 Dine in the award winning Maravalla Restaurant in classic surroundings featuring prime steaks, chops and fresh seafood, complimented by garden grown produce and local ingredients. Lunch on the vine covered pergola terrace of the Oak Grill with chef specialties of signature soups, salads and sandwiches, amid views of the golf course surrounded by the 200 year old oak trees. For a relaxed after golf or anytime meal or casual drinks Jimmy's Pub is open from 11am to midnight with hardwood trimmed earthy decor and 60 inch flat screen TV for keeping an eye on all the sports games with brick oven pizzas, choice burgers and California micro-brewed beer, signature margaritas or a selection of single malt scotches.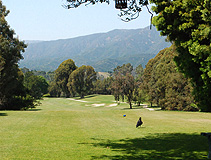 The championship golf course at the Ojai Valley Inn attracted Hollywood Golden Age golf lovers like Bing Crosby and Bob Hope and modern stars, Will Smith and Kevin Costner, and has been host to seven Senior PGA tour events played by legends of the game like Arnold Palmer, Gary Player and Lee Trevino. Need to learn to better concentrate on your swing with ease, you can even get lessons in Zen Golf in Ojai. The Ojai Valley Inn is a member of the Great Golf Resorts of the World. The Ojai Tennis courts offer coaching and teen and children's programs. The Ojai Valley Inn &Spa offers a number of seasonal special packages for romantic escapes, food lovers, and family vacations with complimentary rooms for the kids. © Bargain Luxury Travel
Read Review of Ojai Valley Inn & Spa on Tripadvisor
Web Info
Ojai Valley Inn & Spa
These articles are copyrighted and the sole property of Bargain Luxury Travel and WLPV, LLC. and may not be copied or reprinted without permission.
More California Luxury Getaways:
Chateau du Sureau - Sierra Mountains
Mandalay Beach Resort - Oxnard
Sir Francis Drake Hotel - San Francisco Union Square

Visit Bargain Travel Europe for European Travel Ideas