BARGAIN LUXURY TRAVEL - ENGLAND
THE PENNINGTON HOTEL - RAVENGLASS CUMBRIA LAKE DISTRICT
Simple Luxury and Solitude on North England Cumbrian Coast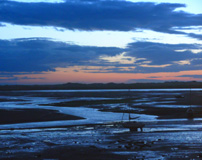 The jagged coasts of North England are salted with small coastal villages. In centuries past the Romans looked for a port where they could supply their troops on guard from the Celtic hordes along what is called Hadrians Wall (see Hadrian's Wall), protecting the northern boundry of the empire. They found a port on a shallow estruary of three rivers flowing down from the high hills of the western Lake District in Cumbria. The village which surrounded their port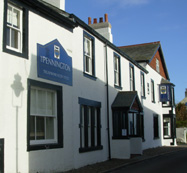 gained the name Ravenglass after the Romans had left and founded as a market town in the time of King John. Today, Ravenglass is a quiet town most known as the coast terminal of the Ravenglass Erksdale narrow gauge railway (the Ratty Railway), a one-time coal railroad which now takes tourists on steam rides in ½ scale cars to the foot of England's highest mountain, Scafell Pike. Ravenglass is the only coastal town on England's west coast that lies within the bounds of the Lake District National Park. The estruary which served as a harbor in the days of sail has long since filled with silt and now only harbors fishing boats and the occasional personal yacht. The rising and lowering tides can travel a quarter mile, with a sailing boat rocking in the gentle waves left sitting mast tilted on the mud 12 hours later.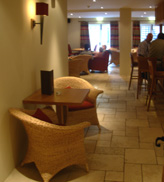 The Pennington Hotel was refurbished in 2007 from a one time local Georgian coaching inn and popular local pub into a historic luxury coastal inn. Owned by the Pennington family whose ancestral castle at Muncaster is a few miles away. Decorated in a simple, clean casual elegance of light woods and thick whitewashed stone walls, the Pennington is noted for its Rossette awarded restaurant "The Estuary" serving meats, game and fish from local vendors and vegetables grown the gardens of Muncaster, with a fine wine list. Only a few rooms have views of the tidal estuary, but several catch views of the sometimes magnificent sunsets on the Irish Sea or the quiet courtyard.

Walking the coast sands of the estruary with the tide out, coastal birds swirling above, can feel like the last lonely spot at land's end. Ravenglass itself is only a few rows of coastal houses, with a very small village. The bar at the Penninton is about the only night spot. The roman days are still represented by the ruins of the Roman bathhouse a half mile walk. Golf, horse-riding, bird watching and mountain hiking, are local activities and Ravenglass is at the southernmost end of the Hadrian's Wall biking route. Muncaster Castle also offers a schedule of activities throughout the year.
For visiting castles in Wales see More Favorite Castles of England & Wales.

The Pennington Hotel and Ravensglass can be reached by car on the winding coastal road A595 and by train on the Cumbrian Coast Rail Line. The Pennington also offer two period coastal townhouses, the Newton House and Knotts View on the Estruary as self-catering accommodations for families or groups. . © Bargain Luxury Travel
Book a Bargain Deal at The Pennington Hotel
Compare best travel and hotel deals in the Lake District on TripAdvisor
Relaxing Spa Vacation Getaways!
These articles are copyrighted and the sole property of Bargain Luxury Travel and WLPV, LLC. and may not be copied or reprinted without permission.
More England Luxury Getaways:
Montagu Arms Beaulieu New Forest - Hampshire

Or visit Bargain Travel Europe for European Travel Ideas